Most of us just can't seem to get enough of Roger Clyne's musical styles, which range freely from catchy lyrics, captivating rhythms and melodies, to sprawling prose compositions that tell the tale of a good old boy who's always found his peace south of the border. Few bands have the collective talent and skills to convey the color and mood of what they sing and play like Roger Clyne and the Peacemakers.
Of course, few work with the diligence or focus with the consistency to perfect their skills as do Roger Clyne and The Peacemakers either.  Because they are doing what they love, we fans get the full benefit of all their hard work. It's probably safe to say that many of their thousands of loyal  fans follow the Peacemakers to so many concerts because they love to watch them endeavor to improve on their own perfection.
There's a reason for that and it's the same reason that allows anyone to reach their dreams by doing what they love—and while doing what one loves might be the secret to proverbial happiness, it does not guarantee any kind of success.  What brings the success is what Roger and his group has an abundance of: An ardent desire to perpetually produce, perform and continue to perfect their music as a redeeming art form of communication.
And it shows. In every chord; in every note; in every passionate pitch of the lyrical message Roger and the PM's lay out there for us. We get it and want more of it. The weekend of October 4th we wanted it all night Friday at JJ's Cantina as they jammed the sea to its knees under a waxing crescent moon trading licks and lyrics with friends like the Zubia Brothers, among whose original work included a song about Roger.  We wanted it again all night Saturday at Wrecked at the Reef—where they left it all on the stage for another standing room only crowd of super-fans!
Is that why we can't seem to get enough of Roger Clyne and the Peacemakers?
Let's let the photos of Friday and Saturday nights by photographers Tony Ballesteros and Joe Houchin embellish the answer to that question in full color…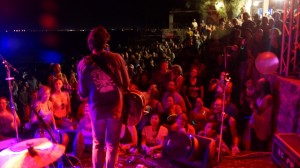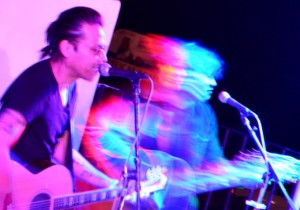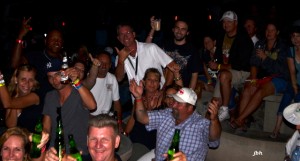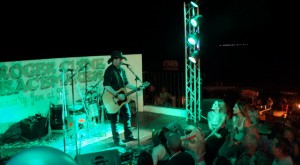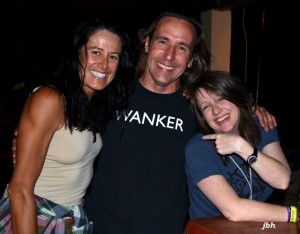 Saturday night at Wrecked at the Reef.  Roger and his guitar opened with a solo set that took us back to songs of the Refreshment days to the present, including any requests. What a way to start the night before the Peacemakers came on and brought something special to the patio stage under a starry night sky!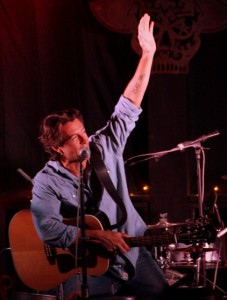 This blog is powered by www.sonoranresorts.mx, Jim Ringquist, Director of Sales and Marketing.