In the December newsletter you read about the good hearted group of owners at the Sonoran Spa Resort affectionately named the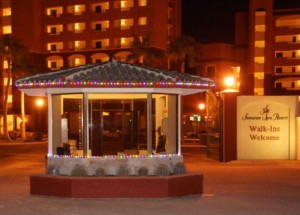 "Pilgrims" who prepared and served Thanksgiving dinner to about a 180 workers and residents of the Spa and Sea (see our blog article at https://www.sonoranresorts.mx/?p=7215). It seems their holiday spirit maintained its momentum as some of the group have done a beautiful job of decorating the lobby—and the guard gate—with lights,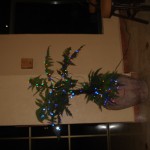 floral arrangements and brightly colored Christmas tree ornaments to bring the spirit of the holidays to all who pass through the entry gate and visit the lobby.
Once again led by creative photographer, craftsman and Sonoran Spa resident Tony Ballesteros, assisted by Sonoran Sales Team Member, Jennifer Ridsdel and friend Kory Bonini, Tony found a huge wreath downtown which he made beach worthy by adorning it with assorted sea shells, sand dollars, ribbons and bows and hung it in a central locations across the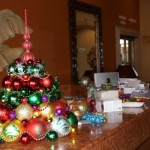 reception area from the entrance doors. Tony also made hand-glued Christmas balls into the shape of Christmas Trees that sit on each of the coffee tables.  He hung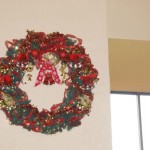 stockings he made from serapes in bright traditional Mexican colors. All the plants are decorated with lights as well.  Since a picture is worth a thousand words, here are the photos Tony sent us of his crafty contribution to the holiday spirit at the Sonoran Spa.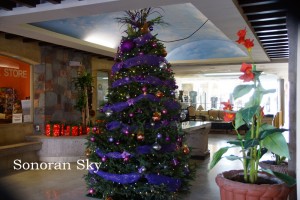 Lest you think the Sonoran Resorts forgot about decorating the Sun, Sea and Sky Resorts, we captured some shots to portray the spirit emanating from their reception areas as well!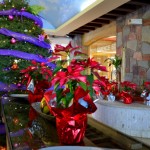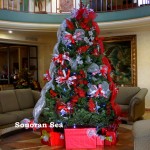 We'll leave you here with one of those uniquely beautiful Puerto Peñasco sunsets that express the rays of sunshine we wish for you in the New Year!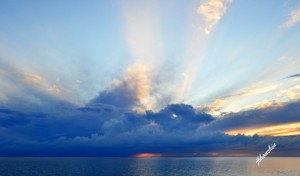 This blog is powered by www.sonoranresorts.mx, Jim Ringquist, Director of Sales and Marketing.
Related Posts
This year marked the 11th annual January Jam that began as an…

It has been less than two years since Mayor Kiko Munro inaugurated…

Each and every year, as we mingle through the…