Excitement built to a crescendo as seven enthusiastic members of the Sonoran Resorts Sales Group met in the Sonoran Sky restaurant Tuesday evening for a rehearsal and training for their parts in making Saturday night's casino event the best party of the year in Puerto Peñasco and the best fund raiser of the year for DIF.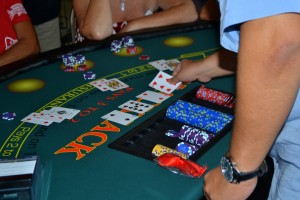 Poker expert Rafael Armando along with Sonoran Resorts own Bobbie Tobin and local realtor, Eloy Gonzalez , experienced dealers who will be joined by several semi-pro Poker and Black Jack dealers for Saturday's affair shared their Las Vegas style casino experience during several games of Black Jack, Texas Hold 'em Poker and some spins on the Roulette table, showing the group how to make the games fun while at the same time being totally professional.
Sonoran Resorts management has gone all out for the gala event with automatic shufflers, dealing boxes, nine Black Jack tables, Roulette Table and four Poker tables for the big Texas Hold 'em tournament as well as some cool decorations and delicious buffet. Rocky Point's Tourist and Visitor Assistance Office Director and radio personality, Rosie Glover will emcee the festivity.
The night will also include entertainment, buffet, cash bar and raffle prizes awarded throughout the evening from 100 items and services  generously donated by our local businesses and privately by good folks coming down for the event—a list that's still growing!  You'll also be able to use your winning chips to purchase dozens of items outright from a huge display of gift certificates. Check out all the great prizes beforehand by clicking the "Sponsors" box at https://www.sonoranresorts.mx/LASVEGAS/ .
By the way, if Lady Luck turns on you at the tables Saturday night, you'll be able to purchase more chips from the DIF "cage" just in case you see something you'd really like to buy or bid on, or just to change your luck!  Remember, 100% of the ticket sales, chip purchases and bidding will go to DIF.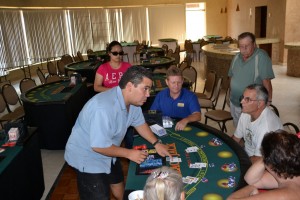 You can still purchase tickets to this great night of fun and charity by clicking "Pay Now" to the right of this article (under the poster) after choosing the number of tickets (Single for $30 USD or Pair for $50 USD).  You'll be able to pick them up at the door along with the $300 in chips included with each ticket. The fun begins at 7:00 PM!
Your winning stash of chips will serve you well at the end of the evening (around 11:00 PM) when local photographer and auctioneer (a newly revealed talent), Tony Ballesteros will start the bidding for about a half dozen big prizes that include artworks by internationally acclaimed shell artist, Julio Meza, weekends in Puerto Peñasco, a trip to Cabo and more!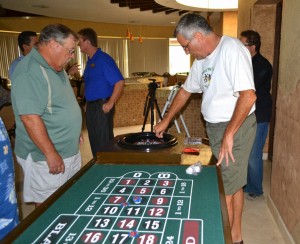 And, finally, we had some inquiries about the dress preferences mentioned in our last blog about Las Vegas Night for Charity.  We understand that most residents in our beach side paradise own about three types clothing: swim, fish and casual.  This is a charity event so we aren't turning anyone away at the door.  We're just suggesting that you wear your "Sunday best".  However, if you show up in fishing gear, as long as you removed the fish, you're in.
Win or lose at the casino, it'll be a Win-Win for you and the thousands of children and families who benefit from the 36 year DIF history of providing food, clothing, counsel, medicine, medical services, transportation and shelter for citizens in need.
It's a night you won't want to miss!
This blog is brought to you by the Sonoran Resorts Sales Group, Jim Ringquist, Director of Sales and Marketing.
Related Posts
Hundreds of Puerto Peñasco residents and loyal visitors are planning for this,…

Saturday July 4th is the date to mark on your calendar for…

As the size and stature of the Sonoran Resorts Las Vegas Night…