If you've been frequenting Puerto Peñasco for longer than a decade you probably have fond memories of the days when sand dollars were plentiful all along the beaches from Encanto to Sandy Beach.  All you really had to do was wait until the tide cycle was around five feet or less in depth and look carefully to find them partially buried in the shallow sandy bottom near the beach. They came in all sizes, too, remember? The fragile baby ones that were about the size of a quarter you had to handle so carefully or they would surely break before you could get them back to your camp site or trailer.
Remember the shrill of excitement that echoed along the beach when the kids found a perfect three incher or especially when one discovered a "giant" five incher?  And you could actually find enough to break a couple of them apart and tell children gathered around the story or read the poem of  the angels (or doves) as you removed them from the center so fragile and beautiful, so full of meaning and hope. The look of wonderment on their captivated little faces alone was worth the trip.
Yes, those were the times that made childhood adventures, cultivated healthy curiosity, lifelong memories and laid a foundation for appreciating the timeless treasures beneath the sea.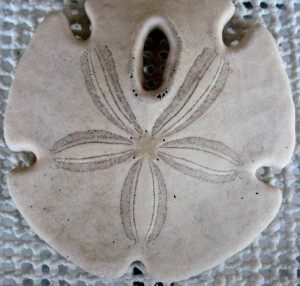 So where did all the sand dollars go? Not to mention so many other small artifacts which were such fun to collect?  They're not only harder to find nowadays, it's a rarity to run across an intact sand dollar along the miles of lush beaches on which the sea still uses the tide cycle to bring us beautiful shells in thousands of colors, shapes and sizes.
Can you keep a secret? Besides the billion or so Facebook, Twitter and Google readers to whom this blog is available, try not to spread this sure fire formula for finding sand dollars around any further, okay?
Well, it's a timing thing, and a geographical thing, and an equipment thing, all of which are within easy reach for most everyone who frequents our little slice of paradise. Here's the simple formula you need to follow and still find all the sand dollars you can haul back home:
Timing: There are three to four days every month, which are the days before, during and after a full moon when the tide variance is the most radically high and low. Time your search to begin about an hour to a half hour before the tide reaches its lowest level. It will still be "going out" as most of us say (even though that is not exactly correct as the official state of a tidal cycle is measured as "high-flowing" or "low-ebbing" as opposed to going "in" or "out"). When the tide is ebbing it stirs up the sand dollars that, being so thin, tend to slice into the sandy sea bottom as they settle and partially or completely hide themselves.
Location: Next, you have to be where the ebbing tide has sand dollars to stir up.  One of the best, if not THE best location for this to happen is in Cholla Bay.  Specifically, if you take the first dirt road past JJ's Cantina down to the sea when it is low enough that you have to walk out maybe 50-75 yards to get ankle deep and start looking into the clear water ahead of your feet—voilá! You should start spotting sand dollars, and as your eyes become accustomed to recognizing the shape of one that is partially buried, you'll begin to see more and more, and that's why you need C below:
Equipment: Bring a big strong handled bucket because wet sand dollars, while one at a time don't seem that heavy, as a bucket full will wear you out before you get back to the car. A long pokey-type pole is handy also to gently pry a suspected sand dollar before bending down to pick it up only to discover it broken.
So there you have it. There could be threats of harm to this author for revealing the above formula from those who already know about it, but that's the risk we take to make sure you have the best time possible while in Rocky Point and your kids can still learn to appreciate all the gracious sea has to give!
One caution, in the interest of conserving our natural resources for future generations, please take all the sand dollars you need, but only those you need, lest Cholla Bay ends up like the miles of beaches before it, and your children's children miss the opportunity to appreciate the timeless treasures  our sea has to give.
This blog is powered by www.sonoranresorts.mx , Jim Ringquist, Director of Sales and Marketing.
Related Posts
This year marked the 11th annual January Jam that began as an…

It has been less than two years since Mayor Kiko Munro inaugurated…

Each and every year, as we mingle through the…