Sometimes so much is going on in our little slice of paradise by the sea that we can't address the many short subjects with proper attention in our blog. To handle the hodgepodge of dangling subject matter, we invented the Potpourri Page to appear on our blog site and in Jim's monthly newsletter to cover those short subjects that deserve updates, follow-ups and reminders and keep you out of trouble, make you 46% smarter, and 11% more likely to lead the conversation in a social gathering. Read on…
Last Mermaid's Market of the Season—Déjà vu!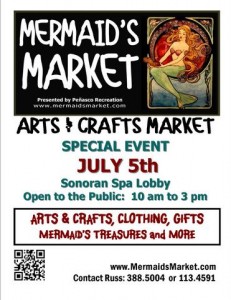 July 5th 10am til 3pm  It's happening again by popular demand—in the cool air conditioned comfort of the Sonoran Spa lobby! You have another chance to find that gift, that objet d'art, knick-knack, planter, wall hanging, piece of jewelry, hand sewn über modern wearable fashion, or framed photograph of your favorite sea bird, sunset or sandy beach.
You can even purchase tickets to the not-to-be-missed Sonoran Resorts Las Vegas Night for Charity taking place at the Sonoran Sky that same evening starting at 7:00 PM. Take advantage of this opportunity to visit one of the last gatherings of our local artisans this season.
June Pancake Breakfast at the Lighthouse was Huge Success! 
Thanks to over a hundred good-hearted pancake eating, mimosa drinking folks, and good old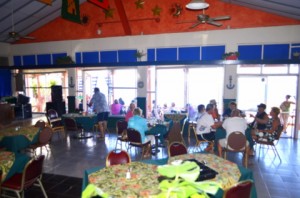 fashioned  bend-over-backwards cooperation from Lighthouse Iva and her crack staff, Barb Olszewski and Sandy Spain were able to present Esperanza para Nueva Vida Community Center in barrio San Rafael with the great news that their utility bills will be paid for the next entire year!
June Rubber Ducky Invasion of Sandy Beach Also a Huge Success!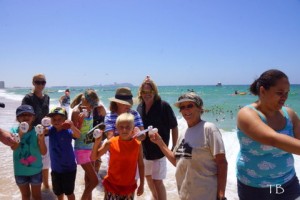 A bunch of fun loving gamblers placed their bets on nearly a thousand rubber duckies to participate in Barb Olszewski's Annual Ducky Trifecta which is a hoot to watch and exciting to win one of the many prizes that are donated for the race that this year raised funds for the dual purpose of sending physically challenged youths from Puerto Peñasco to the National Paralympics competition, and for emergency funds to send critically ill and needy patients for medical attention outside Puerto Peñasco. Thanks to good friend Tony Ballesteros for these photos.
Tía Katy Shares Her 53rd Birthday with the Amores de Peñasco Kids and Announces Her "Greatest Birthday Wish!" 
Kathleen Duncan (of iconic Duncan Family Farm in Buckeye), for the second year in a row shared her birthday with her favorite pals from the Albergue Infantil, Amores de Peñasco Children's Crisis Center which she has been helping for the last year and a half. During that time Kathleen has structured an organizational system that first prioritized expenses of this under-funded  organization and identified the most consistently needed items.
The week before her party, Kathleen received the great news that the shelter has officially become a part of the Steps of Love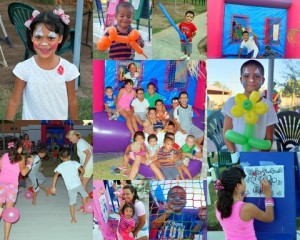 organization which is a 501c3 that can receive tax-deductible donations from the U.S. Her biggest wish has been to create a stable income to cover expenses for goods and services that are really needed but up until now have had no way of being funded.
In case you might be interested in learning more about Amores de Peñasco and how to make a tax deductible donation, let's let Kathleen explain it in more detail via her email of about a week ago:
So, for my 53rd Birthday I would love nothing more than to have any of you who are able and willing to make even a very small donation to Steps of Love to benefit the Amores de Penasco Shelter.
Here is how to do so:
1) Go to: www.stepsoflove.org
2) Once at the website click on the 'Donate' tab at the top of the homepage.
* To make a one time or recurring donation online using PayPal click on the donate button under option 1. Enter the amount you wish to donate and then once you are on the PayPal page that asks you to review your donation click on the link in blue print that says "Add comments or donation specification". Type in 'Amores de Penasco' and If you would like your donation to go to a specific need, Food, Education, Shelter or Medical then type that in as well. If no specific need is identified then your donation will go to the Amores general fund and we will decide how to best use it to benefit the children. If you would like your donation to be recurring then just check the box that says 'make this recurring (monthly)'
* You can also use option 2 and mail a check or option 3 and make a direct deposit to our bank–if you use either of these options please be sure to make a note in the memo part of your check that it is for Amores de Penasco.
Thanks so much to all of you for your support!
'Tia Katy'
Second Annual Tea Party and Diaper Drive on July 6th at Giuseppi's 
Bring a package of diapers (sizes 3,4, or 5) to Giuseppi's Espresso Café on Fremont from 2:30 to 4:30 and join the fun watching the packages build to small mountainous crescendo. Last year the booty booty amounted to 5,896 diapers and 5,488 wipes—enough for the summer and then some! For more information on this event, call Barb Olszewski at 383-4963 (from a land line here) or from the U.S. at 602-324-9529. If you can't make the tea party, Barb will come by and pick up your diaper/wipe donation . Her email is rockypoint@myway.com. If you'd like to learn how this particular event came to be, just click on https://www.sonoranresorts.mx/?p=9450 for the story.
This blog is powered by www.sonoranresorts.mx, Jim Ringquist, Director of Sales and Marketing.
Related Posts
This year marked the 11th annual January Jam that began as an…

It has been less than two years since Mayor Kiko Munro inaugurated…

Each and every year, as we mingle through the…