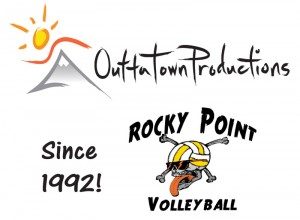 After a two year hiatus to develop the now famous InSANDity! Beach Obstacle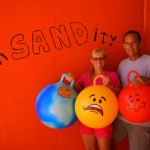 Course, Luis and Karen Garrido of Outta Town Productions fame are bringing back "Retro Rocky Point Beach Volley Ball" taking place on Sandy Beach in front of the Sonoran Sky Luxury Beach Front Condominiums over the weekend of April 6-7, 2013.
"Retro Rocky Point Beach Volley Ball brings back the social, more laid back, fun-on-the-beach atmosphere we started with over 20 years ago," says Luis.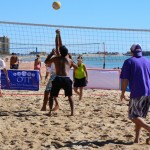 For this fun event on the Sea of Cortez beach, Luis will also bring OTP's sister company, Volitude out of Long Beach, CA to host beach tennis and Tri-Ball for when you're not playing tournament games.
Elite Volleyball (EVP) Western Division will also be along offering EVP points for qualifying Men's and Women's 2's, which will have a separate entry and prize fund. This enables entrants to compete for points to get into Professional AVP qualifiers.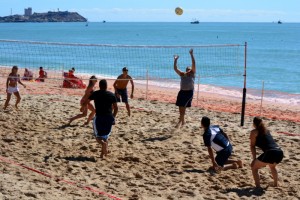 Here's how the Retro Rocky Point tournament will work:
Pre-registration will be mandatory for this event at only $100 USD per coed 4's team. Registration deadline is April 2, 2013.
Registration is open to the first 30 teams only. Register for either A with 15 teams or B 15 teams.
Register and pay online at: http://outtatownproductions.com/event.php?id=285 .
Friday night is the Player Check-In Party at Chango's Bar and Grill with drink specials starting at 8:00 PM.
Most of Saturday will be pool play with the top 10 teams becoming the Gold Division, the middle 10 will become the Silver Division and the remaining 10 will be the Bronze Division.  First rounds of double elimination play will begin as time allows. No Teams Will Be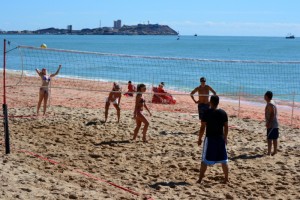 Eliminated on Saturday.
A Taco and Beer Stand will be on site all day both days.
Be sure to stick around the Tiki Beach Bar on Saturday evening for a special night of on-the-beach fun planned for everyone!
The tournament will finish out on Sunday. Luis tells us that with 30 teams entered there will be $2,000 in cash prizes to be awarded with the highest amounts going to Gold, then Silver, then Bronze Division winners. All Participants Get a Player T-Shirt!
Enjoy special discounts of 15% when you use the OTP promo code SGS11216 and book your rooms through Seaside Reservations at http://www.seasidemexico.com/. Discounts are good for all homes or condos from budget to luxury properties and you can stay for two nights or all week with that discount!  Shop through the variety of accommodations for what tickles your toes on the Seaside web site (listed above).
Come on down to our little slice of paradise on the beach and take part in the legend that is Retro Rocky Point Beach Volley Ball at the Sonoran Sky Resort snuggled up to famous Sandy Beach on the Sea of Cortez!
This blog is powered by www.sonoranresorts.mx , Jim Ringquist, Director of Sales and Marketing.
Related Posts
This year marked the 11th annual January Jam that began as an…

It has been less than two years since Mayor Kiko Munro inaugurated…

Each and every year, as we mingle through the…