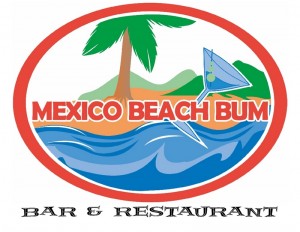 Two guys are sitting at a bar…a cliché you've heard a thousand times; and "This ain't no joke;" another cliché that has hit the thousand mark in your mind. However, not in the case of the origin of Mexico Beach Bum Bar and Restaurant, Rocky Point's newest hangout to go chill out at the Malecón, perhaps on the upstairs terrace across from the Sea of Cortez as you ponder the deeper questions of life, like, how deep the ocean would be if sponges didn't grow in it…and other mysteries.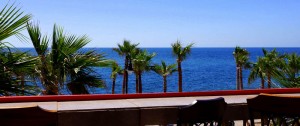 So, anyway, back to these two guys sitting at a bar, the Tiki Beach Bar at the Sonoran Sky Resort Condominiums to be exact, in January of this very year.
Mike Curnow was visiting Rocky Point (and Mexico) for the first time from Butte, Montana, home of the renowned "Pork Chop Sandwich". In fact Mike had grown up in the restaurant business. Like most first time visitors, he was still in awe of the pure natural beauty of the Sea of Cortez, the clean sandy beaches and the friendly people in this budding destination.
Enter the second guy and sits next to Mike who immediately noticed Rick's clever T-shirt and introduced himself to Rick Novak, a veteran visitor to Mexico, having lived in Mazatlán and recently relocated to Puerto Peñasco. Rick grew up in Spokane, Washington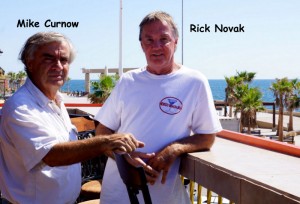 and was a successful entrepreneur having built businesses in Surprise, Arizona and Reno, Nevada as well as West Africa, India and other parts of the world.
The T-shirt Rick was wearing that got Mike's attention had the logo "Mexican Beach Bum" with the caption "A Way of Life".  These two hit it off almost immediately with a big dose of rapport fueling a long friendly conversation about their respective backgrounds, during which Rick had mentioned that he was creating a line of clothing based on the logo and slogan beginning with the T-shirt. That's when Mike came up with the suggestion, "Why don't we open a restaurant and bar with your theme?" Rick promptly replied to Mike's suggestion with, "No way!" (Remember, "This ain't no joke!")  It turns out Rick wasn't the only salesman among the two, and the rest is recent history on how the Mexico Beach Bum Bar and Restaurant came to be in Puerto Peñasco.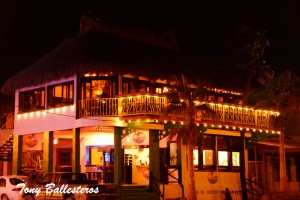 Before Mike returned from that first trip to Mexico in January, he had purchased a condominium at the Sonoran Sea, and less than eight months later he and Rick had opened the Mexico Beach Bum Bar and Restaurant.  Talk about making a decision and not looking back?
The bar and restaurant was opened in what was the Wrecked at the Reef after a rather radical remodeling and paint makeover to create a somewhat different tropical beach laid back atmosphere; "a way of life" where you can chill and ponder amidst continuous tunes you grew up with…and choose from a variety of food dishes created by Chef Elisa Mendoza Ornelas who owned her own restaurant in San Felipe and has worked under chefs in Puerto Peñasco for the last eight years. Originally from Michoacán, Chef Elisa's specialty is in the creation of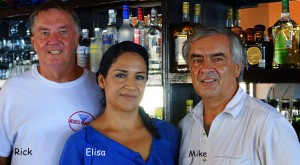 tasty, original sauces for her seafood, shrimp and chicken dishes for the unique menu of the Mexico Beach Bum Bar and Restaurant that includes lunch and dinner from 11:00 AM until 10:00  PM with plans to open earlier for breakfast. Elisa will make you breakfast anytime.
They've scheduled a big Grand Opening for Friday October 12th with special guest and Rocky Point favorite, Mark Mulligan.
You don't have to wait until October, however. Stop by next time you're down at the Malecón and get to know these two "hands-on" owners.  It will be rare if one or both of them are not there. In fact, to see what Mike and Rick have done with the locale will be worth a special trip.
Mike's glib enthusiasm and Rick's dry wit are included with every visit, too!
Check out their original press release below and mark your calendars for the 12th of October.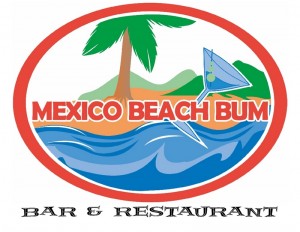 Press Release
We are proud to announce that October 12th will be the Grand Opening of Mexico Beach Bum, the newest bar & restaurant in Puerto Penasco (Rocky Point).  Michael Curnow is the principal owner with his partner Rick Novak.  Michael grew up in the restaurant business in Butte, Montana.  Rick's vast promotional experience is a vital asset.  Both Michael and Rick reside at the Sonoran Sea.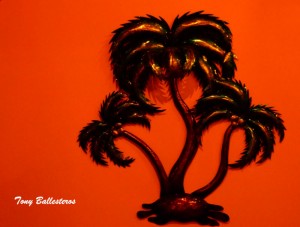 The Grand Opening will feature Mark Mulligan in concert at 7pm open to the public.  There is no admission charge, but any donations will be given to (local charity).  Come early to enjoy dinner and get the best table.  Anyone not familiar with Mark and his music can check him out at www.MarkMulligan.net.
Mexico Beach Bum opened August 31st on the Malecon (Old Port) in the building most recently occupied by "Wrecked at the Reef" downstairs.  The upstairs portion is mostly remembered as the La Palapa Restaurant.  We have combined the building into one seamless experience featuring casual dining in a relaxed tropical atmosphere.  Enjoy breakfast, lunch, or dinner with an international flair and the best unobstructed view of the Sea of Cortez in Puerto Penasco.  Sunsets from our balcony are breathtaking while enjoying the music you grew up with and your favorite beverage from our fine bar staff. 
Mexico Beach Bum is open 7 days a week.  The restaurant is currently open from 11am to 10pm and will soon open earlier for breakfast which is now served anytime during open hours.   The downstairs bar hours are 11am to close and the upstairs bar is open from 11am to close.
This blog is powered by www.sonoranresorts.mx , Jim Ringquist, Director of Sales and Marketing.
Related Posts
Saturday July 7, 2012 was a memorable night of charity for the…

It might be an understatement to say The Friendly Dolphin is arguably…

Right down to their famous Christmas Train and Snow Village display, Mike…