The annual Perseid meteor shower begins its most illustrious sequence in the wee hours of Sunday August 11th (that would actually be after midnight Saturday, right?)   Don't worry if you don't read this until Sunday morning. You haven't missed the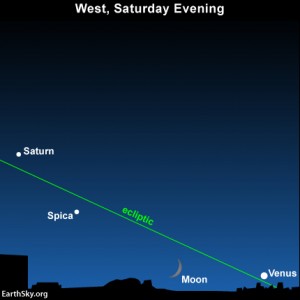 best show of this shower, which will get even better between 2:00AM and just before dawn on Monday and Tuesday when the darkest part of the northeastern sky will be streaked with an average of 50 meteors an hour.
We're even luckier to have a thin waxing crescent moon in the evening hours of these three nights which will be steadily floating past the other two of the three brightest globes, Saturn, Spica (a star) and Venus.  Thanks to this great ecliptic from EarthSky.org, you can identify those really bright objects on either side of the moon after dusk during these nights. In its waning state the crescent moon won't affect visibility of the meteor show.  In fact, you don't need any special equipment; you don't even have to know where the constellation Perseus is located. This is the constellation from which the meteors get their name because if you trace their path backward it seems like they're originating from that constellation. These annual meteor showers are actually made up of dusty debris from the Comet Swift-Tuttle as the debris make fiery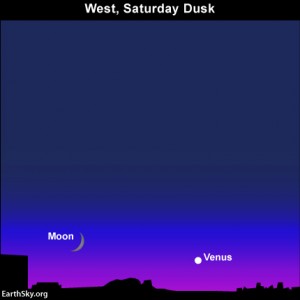 collisions into the Earth's upper atmosphere when our orbit crosses the orbital path of that Comet each year—each year since about the 8th century, with the earliest record being 36AD, where a Chinese document said "more than a 100 meteors flew in the morning."
Although this light show is best seen in the Northern Hemisphere sky, since the Perseus radiant rises steadily over night, by 2:00 AM, maybe earlier, you just have to look toward the northeast and you'll be seeing more and more meteor activity that will continue until just before dawn when the sky is the darkest. Keep in mind that the meteor showers can be seen from any direction due to the scattered, streaking nature of the meteor particles.  It's just that you see a larger number on average looking toward the northeast after midnight.
Happy gazing while the meteors are blazing!
For more information: http://earthsky.org/tonight/perseid-meteor-shower-to-peak-this-weeend  Photo graphics courtesy of earthsky.org.
This blog is powered by www.sonoranresorts.mx, Jim Ringquist, Director of Sales and Marketing.
Related Posts
This year marked the 11th annual January Jam that began as an…

It has been less than two years since Mayor Kiko Munro inaugurated…

Each and every year, as we mingle through the…