Outta Town Productions, founded by long time Rocky Point lover, Luis Garrido, who've brought beach volleyball tournaments to Rocky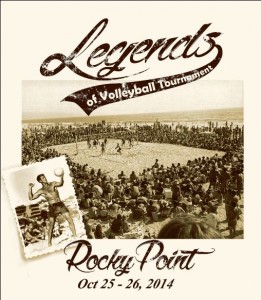 Point since way back in 1992, return this month with two special events. On Saturday October 25th is the
annual co-ed 4's tournament on the beach in front of the Sonoran Sea and Sonoran Spa Resorts. As always local teams are invited and encouraged to enter the tournament.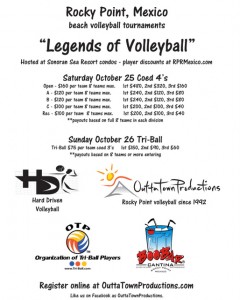 BooBar, malecón staple, will be the venue for this year's Friday night Legends pre-party. Playa Bonita, Sonoran Sea and Sonoran Spa usually sponsor teams of hard playing staff members who have placed (and won cash) in the competitions. If you are a business, a group of friends who like the challenge of beach volleyball, or even an individual, be sure and contact www.OuttaTownProductions.com for details and to register. Many of those who have participated in the Outta Town beach tournaments in Rocky Point over the last dozen years, have gone on to become members of national professional volleyball associations, hence this year's theme, honoring these "Legends of Beach Volleyball." Each registrant will receive a commemorative T-shirt with the cool Legends logo design depicted at the top of this story.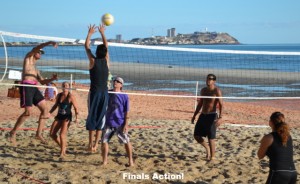 We can always count on something unique from an Outta Town Productions event, and this year Luis brings us Tri-Ball, the newest and most challenging twist on volleyball to come about in decades. One reason for the exploding growth of fast, furious and fun Tri-Ball across the nation is that it is a perfect tournament game. It involves an addicting combination of three teams of co-ed 3's simultaneously playing one ball over three nets attached to one center pole on a circular court. Did we say fast, furious, fun? Just imagine! Luis discovered Tri-Ball back in 2009, loved the fast play and saw immediately how it equalized the height advantage of traditional volleyball. Tri-Ball was a one-off game when Outta Town Productions discovered its potential as a tournament sport and took on the task of developing standardized rules, which included designing the complex software for a tournament of 16 teams where each team plays on each third of the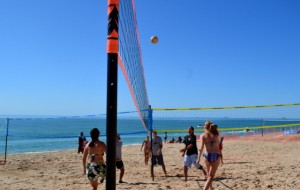 court with less idle time than traditional volleyball tournaments. The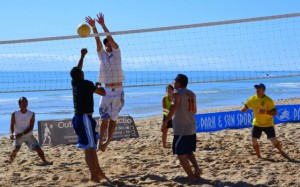 result? A fast, furious, defense focused game that not only involves each player in every play but teaches strategy, cut shots, court awareness, teamwork and improves reflexes. It only takes about one game to become competitive at any level and the average game lasts about 15 minutes. For more info go to www.tri-ball.com. In addition to the Tri-Ball challenge on Sunday, there's a special co-ed 2's volleyball tournament co-hosted by Hard Driven Volleyball friends of Luis on the regular courts. Make sure you go to www.outtatownproductions.com for all the details and to register your team in one of the five divisions including an Open and a Recreational division. The limited spaces sell out almost every year. If you don't have a team, let them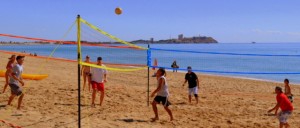 know and you'll be teamed with other individuals. Comments most commonly heard about Outta Town Productions' volleyball events include, "…best run tournament…", ",,,most fun we've ever had—with or without tequila…" and, "…we could not have been any closer to the sea…Rocky Point is so much fun!" There is also a big party on Saturday at the new Banditos Cantina, the "Third World Cantina" of Roger Cline and the Peacemakers, on the entrance road to the Sonoran Spa and Sonoran Sea resorts. Special rates are available for volleyball players through Rocky Point Reservations at www.RPRMexico.com. This blog is powered by www.sonoranresorts.mx, Jim Ringquist, Director of Sales and Marketing.
Related Posts
Here is some sage advice from the Circus Mexicus organization who don't…

Dates are set, tickets are selling at a quick pace, and RCPM…

It's Hard to get Enough of a Good Thing When It's the…