Have you thought about what an incredible experience it would be to sit out on the balcony of your luxury suite in the renowned Sonoran Sky Resort looking out over the passionately peaceful Sea of Cortez and down at the soft sandy beach below you as you reflect back on the day, this day, today, the day you said to yourself, "You know, I can do this. I can write a great travel story about what we did the first time we discovered Rocky Point." Then you clicked open a blank "Word" page and started tapping on your keyboard…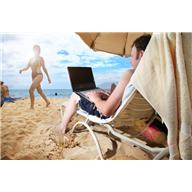 And you wrote that story, and it WON the contest, and you're sitting on the balcony soaking in all the luxury you dreamed about?
Well, you're not that far away from your chance to enjoy that dream. You still have just enough time to take your time to write a nice tight rendition of that special evening or that special day, or that special moment that embedded the memory of how unique and beautiful, how colorful and how much fun that Rocky Point was and is.
You do remember how much you still enjoy the short drive down, the anticipation when you arrive, the way the stress just pours from your neck and shoulders as you step onto the beach and sink ever so softly into that lazy, laid back sand?
Now, just imagine that moment if you knew you had two whole weeks ahead of you, all paid for, plus an extra $50 dollars a day because you have "The Best Job in the World" for the next two weeks!
So, what's holding you back? It can't be fear. Nobody's afraid of having too much fun!
Click on www.whyiloverockypoint.com to review the contest guidelines and all about the prizes, and then submit your story. It's about time, and you need a well deserved break!
This blog is powered by www.sonoranresorts.mx, Jim Ringquist, Director of Sales and Marketing.
Related Posts