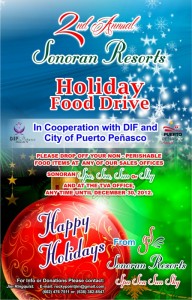 By that headline we mean the Sonoran Resorts 2nd Annual Holiday Food Drive boxes are slowly but steadily growing at each of our sales offices in the Spa, Sea, Sun and Sky with donations of non-perishable food items—items that were brought down specifically for the Food Drive or items that remained after a visit, and we're asking you to join in as well. It is a chance to give the ultimate thanks to those who may have helped you in the past, when times were good here, but through no fault of their own, have ended up in need of food for their families. What makes it even more special is these gifts of  food items are coming not only from a base of our own owners, but many friends of Rocky Point, both visitors and local residents who are glad to help a family in need over the winter months here.
No matter how or from where the food donation come in, they are deeply appreciated and certainly
needed by DIF (Department of Integral Family Development) the 35 year old municipal family assistance organization that assists needy families and school kids with food, shelter, medical care and skill training among many other beneficial services, and the beneficiaries of our Annual Food Drive.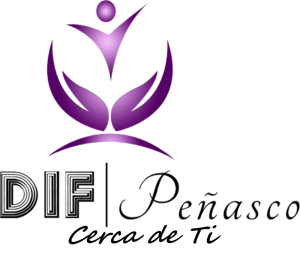 DIF is traditionally headed up by the wife of the current Mayor of the city and this year is no exception.   Also, like last year, the City of Puerto Peñasco and its esteemed new Mayor, Profr. Gerardo Figueroa Zazueta, are officially supporting the Sonoran Resorts Holiday Food Drive.  The new Mayor of Puerto Peñasco was just inaugurated this September and his gracious wife, Profra. Rafaela Felix Bernal, became the new President of DIF. Within weeks they had prepared a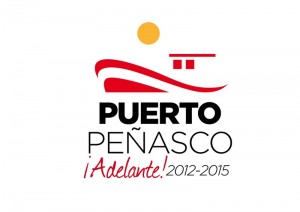 complete three year work plan for DIF and are happy to have the support of the Sonoran Resorts in charitable services such as the Holiday Food Drive and "Las Vegas Night for Charity".
We invite you to please join the other generous folks like yourselves who are glad to help those who have helped themselves, helped you and helped Puerto Peñasco become widely recognized as one of the friendliest, if not the friendliest, beach side destination in Mexico
If you are not planning a trip to Rocky Point over this holiday season and would still like to donate, you may email Jim Ringquist at the address on the poster above for details on how you can help.
This blog is powered by www.sonoranresorts.mx, Jim Ringquist, Director of Sales and Marketing.
Related Posts
This year marked the 11th annual January Jam that began as an…

It has been less than two years since Mayor Kiko Munro inaugurated…

Each and every year, as we mingle through the…