When Roger Clyne and the Peacemakers come to Rocky Point in January, they come to jam! That's what we've come to expect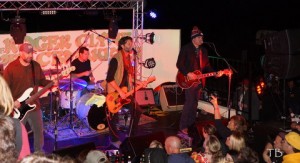 and that's exactly what they deliver—and then some! This year's January Jam of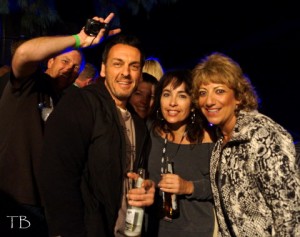 two nights held over the weekend of January 24th and 25th was a bit beyond exceptional up to and including the weather. The Jam began with the Friday night show at The Hut (formerly Chango's) just outside the entrances to the Sonoran Sea and Sonoran Spa beach front condominium resorts and of course Saturday at JJ's Cantina in Cholla Bay where they started the original January Jam seven years ago to introduce some new songs they'd been working on for a new album.
Since that first Jam in January of 2008, it has grown into a tradition as strong as any we have here in our little slice of paradise by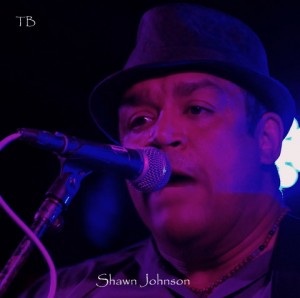 the sea.  It gets better every year because this gang of dedicated musicians always seem to have something new for us.  This year was no exception. In our preview blog we labeled this January Jam as one of those "Don't Miss" events and RCPM proved us spot on as they brought a lineup that included their regular opener, Jason Boots who started warming the eager crowd that began showing up to The Hut at happy hour. Shawn Johnson, the creative singer, songwriter and guitarist who plays regularly at The Hut every Thursday through Sunday, began the show on the outside stage at 8:00 o'clock before the "as advertised" Jim
Dalton and the Lawbreakers took the stage for the first time playing together as a separate band, even though the Lawbreakers include RCPM drummer, PH Naffah, bassist Nick Scropos, plus Jim brought Harley Husbands from another Circus Mexicus opener, Shurman. The result of this first ever stage performance by these gifted musicians playing some of Jim's newly recorded pure country songs, was absolutely stunning. Jim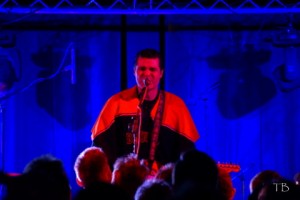 unveiled a voice as deep as the vermilion sea and as country as the Sonoran desert. What a pleasant surprise!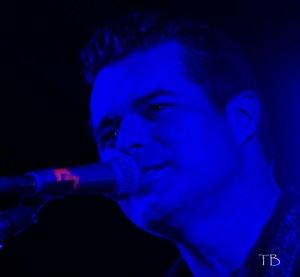 While we expected Jim to come out donning his signature C'boy hat, he proved to be too much of a Denver Bronco's fan the week before Superbowl, and appeared in a bright flowing orange and blue Broncos poncho, looking cool and sounding even cooler.
The Jim Dalton and the Lawbreakers set ended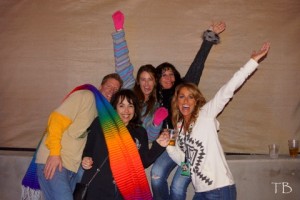 all too soon, but was followed by the main event, Roger Clyne and, well, basically the same group, now Peacemakers. See, when you're as good as these guys you can do that sort transition.  And that's when the Jam started.  They promised a set of cover songs which they rarely play in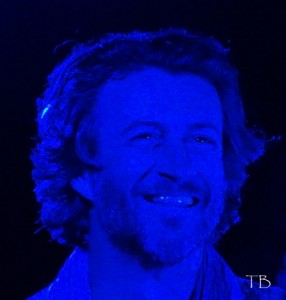 concert so we didn't really know what to expect except that it would be good. And it was, indeed better than good as they jammed to everything from hard rock to rap to classic country and rock. In typical RCPM spirit, they continued well after the "one set" promised as the record crowd for a Friday night (nearly 500 fans) kept calling them back on stage and since they are always having as good a time as everyone else, they kept coming back for more!
All good things had to come to an end because there was a sold out Mexican Moonshine Classic Golf Tournament to tee off on Saturday morning that raised a bunch of bucks for several local charities in Rocky Point.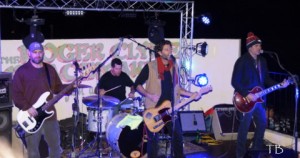 The traditional Saturday night Jam at JJ's Cantina opened with Jason Boooooooots (as Roger likes to call him), bringing down the sun with his special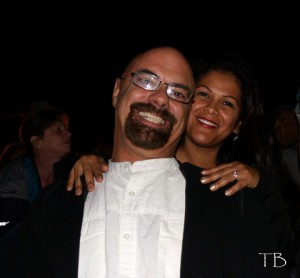 musical style, which, by the way, he showed just how versatile he is on Friday night during the cover set.
RCPM hit the stage rockin' and rollin' interspersed with hearty, heartfelt and honest gratitude to the crowd of about a 1,000 hard core fans who came out ready to fend off whatever weather would come to historic JJ's Cantina in Cholla Bay—which, by the way, allowed for a
beautiful January evening perfect for the energy brought by Roger Clyne and the Peacemakers who, as we've come to expect, left it all on stage, all for their fans.
Peace be with the Peacemakers. We wait with anxious patience for their monster show in June that you may have heard about. It's called Circus Mexicus. June will be your second chance for a "Don't miss" event. Join the thousands of fans who converge upon our golden beaches so Roger Clyne and the Peacemakers can rock their world. Don't miss this one! Stay informed at www.circusmexicus.net.
This blog is powered by www.sonoranresorts.mx, Jim Ringquist, Director of Sales and Marketing.
Related Posts
This year marked the 11th annual January Jam that began as an…

It has been less than two years since Mayor Kiko Munro inaugurated…

Each and every year, as we mingle through the…