2013 transposed to 2014 with so many good things going on in our little slice of paradise by the sea that a couple more stories are in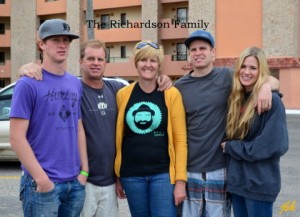 order to bring summary substance to the diversity of good people who perpetuate fulfillment of the many needs of Rocky Point's poor.
Our first story is about the group of 70 or so LDS faithful from Mesa, Arizona's Ray 2nd Ward Mormon Church who love Mexico, Puerto Peñasco and its people in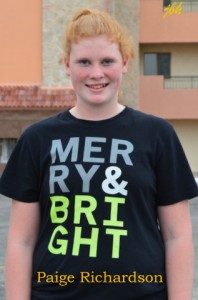 particular. Though most had been enjoying the tranquil ambiance and mesmerizing natural beauty of the beach, the sea and surrounding desert for years, it was six years ago when they figured out ways they could help the locals they'd  come to appreciate so much.
Spearheading the mission since its inception are Nelson and Lori Richardson who were Rocky Point regulars long before deciding to organize a group that would accomplish charitable objectives as well as enjoy a fun Christmas holiday vacation. Nelson has always believed in mixing fun into most of his family and work related activities, so this fit right in with his philosophy.
They've always stayed at the Sonoran Spa or Sonoran Sea so they could organize fun group activities on the beach and jump the dunes on their quads near the two resorts. It's obvious, however, that the most enjoyment of this group is doing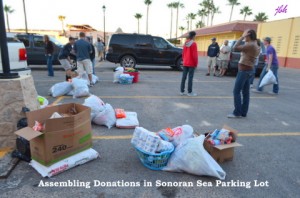 good things for the needy people of Rocky Point. "It's what Christmas is all about," commented one veteran member of the group.
Beginning with a couple dozen good-hearted folks, the annual treks have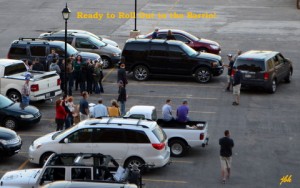 grown exponentially every year with well over 70 in attendance for Christmas 2013. Over the years their objectives have expanded as well. In association with the two local LDS church branches, each year they select 10 – 12 families to whom they provide holiday packages that include a healthy assortment of food, household supplies, clothing and toys. For the last several years they've held a huge "Street BBQ" in a selected barrio, which this last year was in San Rafael. They served over 300 hot dogs to the grateful residents.
In a separate effort, the church youth participate in a "Value Project" each year where the younger ones assembled 50 bags of toys and distributed them throughout the barrios. The 2013 "Value Project" was lead by the Richardson's 12 year old daughter, Paige.
The selfless contributions of these Americans and Rocky Point aficionados cannot be over-emphasized, even though their reward is the personal satisfaction of knowing that a family, a neighborhood, a group of children had a better Christmas because of their efforts!
This blog is powered by www.sonoranresorts.mx, Jim Ringquist, Director of Sales and Marketing.
Related Posts
With so many good hearted groups and individuals eager to help the…

What a pleasant trip it is to get to know this guy…