We love Jack's contributions to our blog with his unique brand of subtle humor and his love of Rocky Point. We're very happy he accepted our invitation to write about one of his favorite subjects, and activities—helping the needy.
Take it away Jack!
Hi, this is Jack back from a blogging vacation.   I'm especially excited about the subject of my first blog of 2015 as a guest contributor to the Sonoran Resorts web site.
Here in Green Valley, Arizona we are blessed to have an entity called Friends In Deed (FID) that does some great things for those in need here. This is a charitable organization that provides equipment to the handicapped at no
charge.  It can include anything from wheel chairs, crutches, commodes, shower seats and even colostomy bags. They only request that when the equipment is no longer needed it is returned, except for the colostomy bags. They ask no questions other than name and address, etc.
You ask, how can they do this at no charge?  Well, that is the magnificent part of FID.  The whole operation is funded by donations and all the great people who work there volunteer their time.  I have two friends who give of their time rehabbing equipment.
On a personal note, back in the early 2000's  our family had the opportunity to avail ourselves of this service.  Our brother-in-law, Henry, had an uncle who became unable to fend for himself and came to live with him. Well, Russell became more and more unable to walk, even with a walker, and needed a wheel chair.  He was at the point of total depression and was mostly bedridden. We heard of Friends In Deed and took him there.  They treated Russell like a celebrity and fitted him into a fine chair.  That chair elevated Russell's attitude immediately!
In fact, on his 90th birthday we took him to the Pinnacle Peak  restaurant in Trail Dust Town in Tucson.  Having been there before and knowing how things work, I went to the White Elephant Thrift Store and acquired the most garish necktie you can imagine.  We got Russell dressed and put on his tie (which he loved).  When we arrived he wheeled up to the table and ordered his beer.
Soon a beautiful young lady came up and announced that ties were not allowed at Pinnacle Peak and proceeded to cut off the lower half and took a picture of the two of them.  He was totally thrilled with the whole experience which would never have happened without the help of FID.  In fact he made many trips including to the famous little town of Tombstone because of his ability to get around in that chair.  We are convinced it added a few years to his life.
So where is this leading?
My good friend Ross lives next door to a volunteer from FID.  One evening recently, during a beer barbequethon he asked Ross if he knew of any group that could use some surplus handicap equipment.  Ross thought of the good folks in Rocky Point who do so much for the community.  As it worked out, we were going to make a trip there the next week.
We arranged to have lunch with our friends Mark Olszewski and Francisco Bercovich who have been great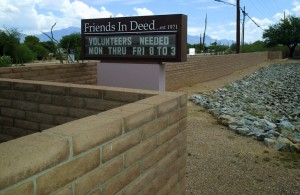 supporters of the needy in town.  While watching Mark scarf down shrimp tacos like they were M & Ms we asked if they could use the equipment and their response was instant and positive.  The only problem remaining is how to get it down there.  Neither Ross nor I have a truck or trailer that can handle it.
So here's where your help is needed.  We need someone with a truck or trailer that can hold approximately 30 walkers, 20 sets of crutches, two or three wheel chairs, some commodes, some shower seats and other extraneous stuff, or any part thereof.  They would be available here in Green Valley, AZ any weekday from 8:30 to 3:00 PM. We need to get it picked up prior to or by August 14th, if possible.
If you or anyone you know might be in a position to help us, please contact me at cactusjack1835@cox.net.  We appreciate your help.
On a more personal note, I would like to dedicate this post to our friend Jim Ringquist, who just recently lost his brother Erik after a valiant fight against Kidney Disease.  Our thoughts and prayers go out to Jim and Erik, their families and all the people Erik touched during his way too short life.
This blog is powered by www.sonoranresorts.mx, Jim Ringquist, Director of Sales and Marketing.
Related Posts
This year marked the 11th annual January Jam that began as an…

Since the very first Sonoran Resorts Las Vegas Night for Charity in…

Each and every year, as we mingle through the…