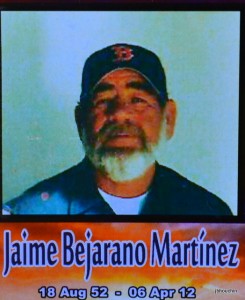 Jaime Bejarano Martínez, a much loved institution at the Playa Bonita RV Park for 26 years lost his battle with lung cancer, succumbing to the disease on Good Friday, April 6, 2012 at the age of 60. Jaime is survived by his wife, barely ambulatory herself, and his namesake, Jaime, Jr., who must now fill Jaime's shoes to support the family.
If you have ever stayed at the Playa Bonita RV Park—and if you own an RV, you surely have—then you remember Jaime as the ever-helpful, ubiquitous employee who seemed to be around 24 hours a day and always there when you needed him.
He was loved by so many in the park that several couples who are permanent residents there organized a "24 Hour Relay Walk for Life" in memory of Jaime to raise funds for his widow and family.  The walk began Saturday April 21st at noon and continued non-stop until the same time on Sunday April 22nd.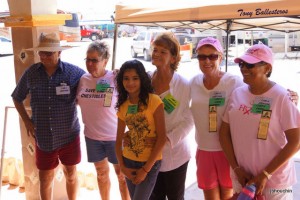 As part of the fundraiser, the group offered a personalized luminaria for each $5.00 donation, and sought volunteers to walk for at least a half hour sometime during the 24 hour relay.  At last count by Saturday around 4:00PM, there were over 100 volunteers committed to the walk!  They also received many donations from friends of Jaime who couldn't make it out to the walk, but wanted to show their appreciation for the contribution Jaime had made to the park and to the assistance he had provided to them when they stayed there.
Dave and Marilyn Knox, two of the organizers who live at Playa Bonita, explained why the walk lasted 24 hours. "Because cancer never sleeps," Dave said with honest emotion, "and cancer patients battle their disease 24 hours a day."
If you remember Jaime and would like to make a donation to help his family, you can still do so by bringing a donation by the Playa Bonita RV Park where Ericka has kindly offered to cash all checks to avoid bank fees and give all the money directly to the family. You may also send a check to:
Playa Bonita RV
C/O Jaime Bejarano
PO Box 254
Lukeville, AZ 85341
We all know of or have lost someone to cancer because this daunting and deadly disease attacks one in four of us.  Jaime's family is now a part of those unfortunate statistics and they are most grateful for any donations and for all of Jaime's friends who have rallied in their support.
This blog is brought to you by The Sonoran Resorts Sales Group, Jim Ringquist, Director of Sales.
Related Posts