Next week, the week of June 3-9, 2013 is already the greatest week of the year for rock and roll music in Puerto Peñasco, and thanks to our friends at Rocky Point 360, Sami and Plinio Rivero who work hard bringing culture and the arts together in Rocky Point and Alfonso Maya is part of that genre of musical creativity.
Next Tuesday June 4, at Barra Vieja , one of the oldest bars in Rocky Point and an institution in its own rite in the Mirador, Alfonso and friends will be performing a mini acoustical concert before a small and intimate audience at the Barra Vieja's new location Barra Vieja is one of the oldest bars in Rocky Point.
You're guaranteed a unique experience for only $100 pesos each per ticket. At this price you know the objective is to share their special genre of musical culture. And that's an objective that blends perfectly with those of Sami and Plinio. It's an objective that we would do well to support more of in our little slice of paradise by the sea, for one day we may be judged by the level at which cultural arts have grown with us, and we'll be able to thank Sami and Plinio for good grades in that important area.
Review the poster Sami put together below and email her at info@rockypoint360.com for tickets and information. You'll be glad you did!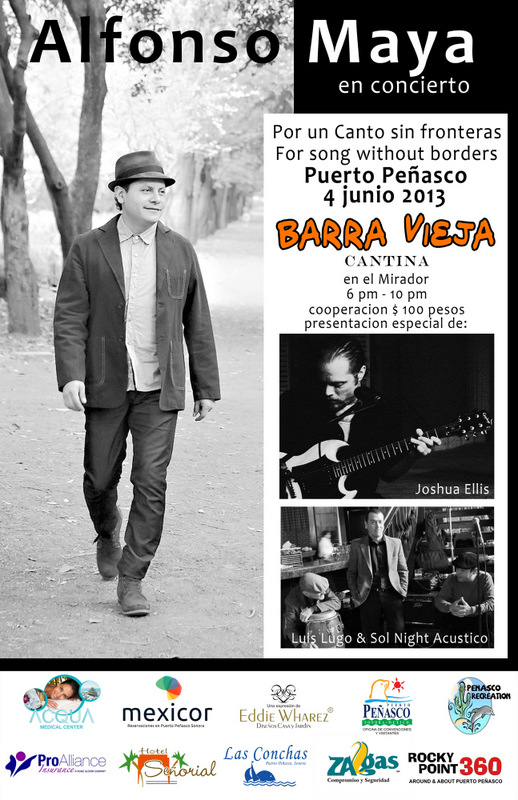 This blog is powered by www.sonoranresorts.mx, Jim Ringquist, Director of Sales and Marketing.
Related Posts
Actually, Roger knows Mexico is above third world classification, but the stanza,…