Located right in the modern marbled lobby of the Sonoran Resorts inaugural luxury condominium resort, The Sonoran Spa, La Spa de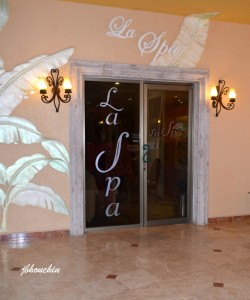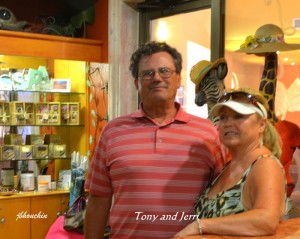 Peñasco has served owners and residents of Puerto Peñasco since 2002.  Jerri and Tony Poteste, owners of La Spa as well as owners of a condominium in the Sonoran Spa designed and built this comfy retreat to their tasteful specifications and have maintained and upgraded their treasured possession since it opened.
Among La Spa's six individually decorated and quite comfortable accommodations that are fully equipped for facials, waxing, and specialty body treatments, there's a cozy couples massage suite, separate waiting areas for men and ladies, complete with their own steam showers, and an impressively spacious pedicure and manicure area that invites a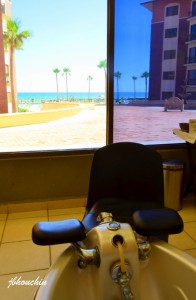 stunning view of the Sea of Cortez while licensed professional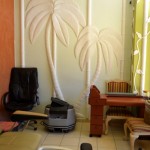 cosmeticians work their magic to transform your digits into soothing works of art.
Meanwhile, in the body and facial treatment rooms, La Spa offers five types of exotic massages, at least three types of facials—including one for men; a variety of waxing services too thorough (men read: too painful) to list; three different Aromatherapy Mud Treatments; a Body Polish and an Herbal Body Wrap cover most of the many services, but not all. You can select a combination of any of these creative treatments customized just for you in a specially priced package.
The value that Jerri and Tony place on service at La Spa de Peñasco is obvious from the moment you cross the threshold into their little haven of beauty and relaxation. The first indication comes from the genuine welcoming smile of Puerto Peñasco native, Olga Durant who has managed La Spa for eight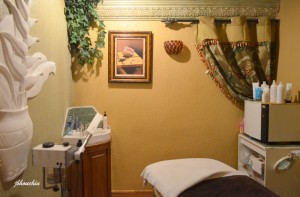 years ensuring the complete satisfaction of each and every guest. It's no wonder that Jerri credits Olga with being an integral part in the continuous growth of repeat and regular clientele to La Spa.
Pricing at La Spa is very reasonable with massages starting at just $35 US dollars, manicures and pedicures are $30 and $40 USD respectively; the fascinating facials and full body treatments start at $70 USD and the waxing services, nearly a dozen of them, start at only $7 USD and up.
Jerri and Tony are very loyal to the owners at all the Sonoran Resorts, offering them a   50% discount off their already affordable prices for massages anytime year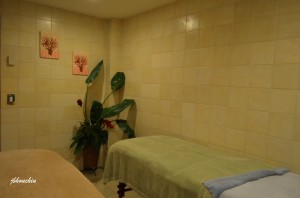 around,  and a 25% discount off all other services La Spa offers.
Even if you're not an owner at the Sonoran Spa, it a good idea to call Olga, first to make an appointment, which is recommended, and second to inquire about any promotions that may be going on at the time. Olga will gladly fill you in on any specials. If you're calling from Rocky- Point, dial 638-382-8111. If you're dialing from a land line in Rocky Point, you do not need to dial the 638 area code.  If you want to make sure you get an appointment before you leave the U.S. you can call by dialing 011-52-638-382-8111; or just email Olga at email@laspadepenasco.com. 
Remember as you languish in our little slice of paradise by the sea, that La Spa de Peñasco has a treatment to synchronize your body and your soul as one, and blend your inner beauty with the setting sun.  You deserve it!
This blog is powered by www.sonoranresorts.mx, Jim Ringquist, Director of Sales and Marketing.
Related Posts