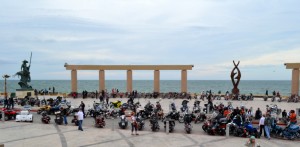 Rocky Point will be rockin' again this year when the much loved bikers from all over the U.S. and Mexico rally in our beach side community for 3 nights and 4 days of camaraderie, consumption and custom bike show and tell.
Thursday and Friday have the early birds as well as the Friday arrivals beginning their annual traveling Black Jack Card draw at the Flores Gas Station in Why, AZ for the first two cards and continue drawing cards all the way to the Playa Bonita Hotel in Rocky Point with stops for the third card at Vazquez Liquor Store in Sonoyta; fourth card will be collected at the Barclin Circle K Gas Station on the way in to Rocky Point; and the fifth card at Playa Bonita Hotel.
Registration both days will be from 10:00AM until 6:00PM at the Barclin Circle K Gas Station as you approach Rocky Point (in case you've been living in a cave somewhere, AKA Puerto Peñasco) on the left side of the highway about Km 96. Barclin will be sponsoring free beer and tacos both days.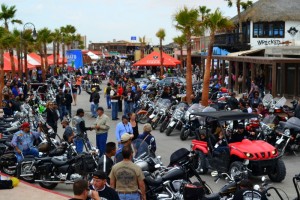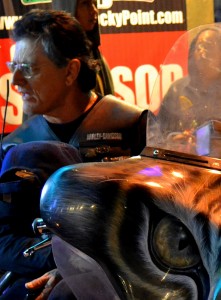 The Welcome Party for Thursday will take place pretty much all day on 13th Street (AKA Calle 13 pronounced: Káh-yeh thur-teen). Then, from 8:00PM to 11:ish the annual Wet T-Shirt  contest will take place at Duke's (AKA Camel Toe Cantina from last year).
Friday at noon will be the free Pirate Boat ride for the first 100 bikers with charity wrist bands departing from Balboa's Restaurant West side of the Marina.
Playa Bonita's annual Welcome Party for the bikers begins at 4:00PM on Friday with a hot rock group from Tijuana playing until 8:00PM when the annual Calle 13 Street Fiestas break loose with the walking Dice Roll sponsored by the OD Bar, the Welcome Fiesta at Peñasco del Sol esplanade, wet T-shirt contest at Dukes and seriously lit up bikes lining both sides of Calle 13 all night long.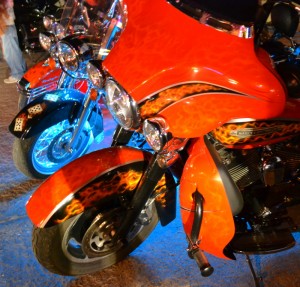 Traffic on Calle 13 is restricted to bike traffic only all evening long, so park you cars on one of the side streets and enjoy the walk and the bikes along Calle 13.
Oscar expects about the same number of revelers as last year, around 4,000, with approximately 30% of them arriving on Thursday and the balance throughout the day on Friday.  If this happens to be your first Biker Rally, one of the first things you need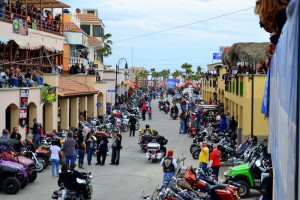 to know is that most of the activities at this event are steeped in tradition that began in 2001 and have developed into party perfection over 12 years since local hotelier (Playa Bonita Hotel owner), Harley enthusiast and avid promoter of Puerto Peñasco, Oscar Palacio first invited a couple of Mexican bike clubs from Mexicali and San Luis to come to Rocky Point—and 80 bikers showed up and had a ball! This was in March of 2001. Wow!
Oscar and his tourism promotion friends quickly saw the draw this sea side community could have on bike enthusiasts from all over.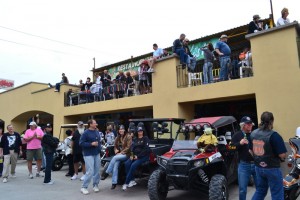 They hastily moved to invite more clubs for a second event in November of 2001 that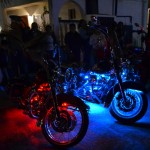 became the first Rocky Point Bikers Rally with 380 in attendance. It grew exponentially each year and Oscar, who in every other aspect of the success of these Rally's is very humble, is most proud of the fact that they have raised over $200,000 dollars for local charities, mainly the all-volunteer fire department, Red Cross, La Montaña School for disabled children, Cancer Center for Women, the Catholic Home for the Elderly (Asilo de Ancianos) and DIF programs in Puerto Peñasco and Sonoyta. DIF is an important state sponsored social assistance program that provides food, medical services, mental health programs, rehabilitation programs for families and shelter for disadvantaged, abused and abandoned children.
The biggest change in the schedule takes place on Saturday as the always anticipated Bike Parade will begin this year at the new time of 12 Noon. It will still begin in front of the Black Dog on Fremont, but this year it will take a new route that ends at the Malecon in time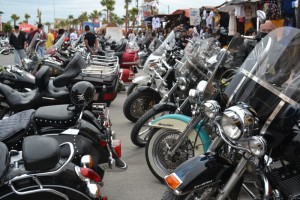 for the beginning of the annual Malecon Fiesta.  The Rally Committee asks that everyone note the new start time of 12 Noon and the new, more logical, ending location of the Malecon.  This should enable more bikers to participate in the parade, much to the anticipated happiness of hundreds of kids who are the appreciative recipients of bunches of candy tossed by the bikers along the parade route.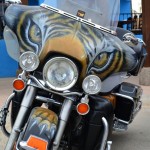 Besides the new Bike Parade time and route, the many activities for Saturday kick off with the traditional Bikini Bike Wash by the Rocky Point Volunteer Fire Department and Tecate Girls and continues with another free Pirate Boat ride for the first 100 Bikers with charity wrist bands beginning at Noon. Live music will be going on all over town beginning with the concert at the South end of the Malecon from 3:00PM to 6:00PM sponsored by the Rocky Point Rally Charities; concert from 4:00PM to 8:00PM at Peñasco del Sol esplanade; and from 7:00PM to 11:00PM at Chango's Bar and Grill on the entrance road to the Sonoran Sea and Sonoran Spa condominium resorts by Sandy Beach. For boxing fans there's a professional match to be televised at the Peñasco Del Sol esplanade at 8:00PM.
Festivities conclude Sunday with the traditional "Gracias Amigos" breakfasts at sponsoring restaurants.
This blog is powered by www.sonoranresorts.mx, Jim Ringquist, Director of Sales and Marketing.