From the very first appearance of their web site, www.rockypoint360.com, in October of 2011, RockyPoint360's solid
mission statement—to provide a breadth of information about what's happening in Puerto Peñasco, Sonora, Mexico—has kept them in a growth pattern which has evolved from 500 readers that first week to currently over 20,000 individual visits to the site each month.  Their eNewsletter, introduced shortly after they began and distributed Monday thru Friday as a free subscription, produces another 150,000 readers annually and has enabled RockyPoint360 to make their mark in cultural event organization and promotion while keeping readers abreast of what's happening around—360 degrees around—Rocky Point.  Their Facebook page alone, with about 4500 fans, garners over 100,000 readers monthly among those who share information or "Like" posts. About 70% of the site's readership is in the U.S. with the highest percentages coming from  Arizona , California and Texas although visitorship has been recorded across every state.
Expertise abounds within the RockyPoint360 organization and, along with the passion of its founding family, plays a crucial role in paving the successful pathway they are taking.  The RockyPoint360 family is very much that, a family. The founding team consists of two siblings, Architect Plinio Rivero Lavín, his brother, Graphics Designer Ariel González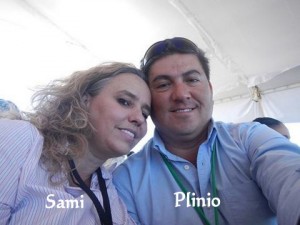 Lavín, along with Plinio's wife of 15 years, Linguist and Writer Shandra (Sami) Keesecker-Rivero and Ariel's longtime partner, Visual Artist and Writer Karla (MoKa) Hammeken.
What's immediately obvious when meeting any of these really nice people, besides that they are really nice people, is that each one has a role or more than one role with the company, and each one is not only capable of performing their role, but each is passionate about their activity ("job" purposely omitted because none of them look at what they do as a "job").
Shandra (Sami) in her parallel life is the person who translates into English all the articles that appear in the print edition of the local tourist newspaper, Join Us. Sami is also a certified translator in the State of Sonora. When it absolutely positively has to be translated legally, Mexico has a certification for that, and Sami has one of those.
That's not all. Sami holds a Master's degree in Study Abroad Programs and Foreign Language Acquisition and a Bachelor's in International Relations and Women's Studies. At one point during her time living in Rocky Point, she also ran a popular Spanish and English language program.  Sami seems to always be enrolled in a course or workshop to maintain and improve her status as one of the most respected writers  in Rocky Point.
Sami's husband, Plinio, is an accomplished architect and currently serves as President of the local Architects Association.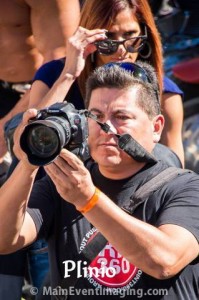 His skills as a business owner, avid photographer, designer and enthusiastic writer are a valuable asset to the organization.  He and Sami first met 20 years ago in Plinio's hometown of Cuernavaca, Morelos in central Mexico. They married in 1999 and moved to Rocky Point in 2001.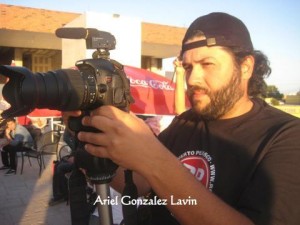 Ariel's creative graphic design and computer skills are responsible for the colorful and easy flowing RockyPoint360 website and have led to the group's appointment as webmaster  and content creator for several local organizations, including the Puerto Peñasco Convention and Visitors Bureau (OCV) web site as well as the RPR Mexico (RPR) web site. RPR handles the reservations for both the Sonoran Sea and Sonoran Spa Resort Condominiums. Among others, RockyPoint360 also handle the social networking on Facebook for Las Palomas Beach and Golf Resort.
MoKa is an award winning writer and human interest story teller with a degree in Visual Arts from the Autonomous University of Morelos whose diversity of experience covers radio, voice dubbing, film and digital media editing.  MoKa likes to
write about the arts and the people behind the arts.
Azucena (Susy) Mazón, the relatively new addition to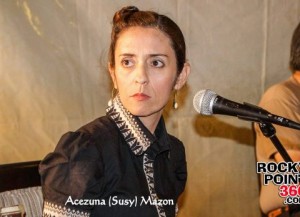 RockyPoint360, brings to the group an extraordinary background as a reporter, actress, and musician as well as a passionate patron of the arts. In fact, she serves as a local instructor  in the promotion of Fine Arts under the auspices of the National Fine Arts Institute (INBA).
It only takes a short scan through the well organized archives of RockyPoint360's web site to see just how involved they are with the growth of cultural arts in Puerto Peñasco.  As we recover from the last few years of economic collapse, RockyPoint360 have continued to play and important role in promoting the arts in most forms to our community, including jazz, Latino, alternative and other eclectic samples of musicians, vocalists and niche ensembles such asmodern and classic dance, film and documentary producers, directors and writers. They've brought an array  of local artists—musicians, painters,  photographers and writers to the forefront for the enjoyment of Rocky Point residents and visitors.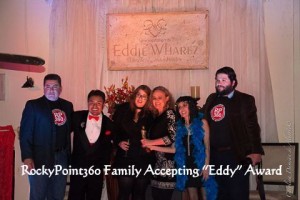 Contributions to the promotion of cultural arts by RockyPoint360 were rewarded this year with their acceptance of the coveted "Eddy" Award for Cultural Development won by the company with the individual award going to Sami!
In the realm of film arts, RockyPoint360 has collaborated closely with Nina Mier, a valued story contributor to the website and noted director of Cine Club Primera Toma, to organize such classic workshops and events as the very successful "Day with a Director" series in 2013, which brought filmmaker Alex Rivera and documentarian filmmaker Pedro Ultreras to town.
Their most current project, once again in collaboration with Nina and Cine Club Primera Toma, involves a number of upcoming special presentations of the renowned documentary, "ABC Nunca Mas" by Pedro Ultreras about the tragic fire in a day care center in Hermosillo five years ago that resulted in the deaths of more than 40 children. This documentary has taken on legendary status for its approach toward preventing future tragedies.
Several free public showings of this message driven documentary are scheduled over June 3rd and June 4th with one special invitation-only presentation on the 4th.  The public showings are scheduled as follows:
June 3rd at 9:30AM at ITSPP (Superior Technological Institute of Puerto Peñasco).
June 3rd at 8:00PM at CineMartes (an open air showing on the patio of Puerto Viejo Café and Roastery in the Malecón))
June 4th at 5:00PM at UTPP (Technological University of Puerto Peñasco)
For more information please call RockyPoint360 at 383-1804, or email: info@rockypoint360.com.
Among the group's top priorities is the RockyPoint360 Calendar of  Events which is meticulously maintained with the latest information and schedules of darn near every event taking place in our little slice of paradise by the sea, from the city's professional baseball team, Los Tiburones, to the major cultural events like the annual Marina Fest, Circus Mexicus, and the Sonoran Resorts Las Vegas Night for Charity.  The calendar is located ubiquitously across the site and always in an easy to read format with links to the details of each event.
One of their goals since the beginning was to reach the point where the web site and newsletter had earned the right to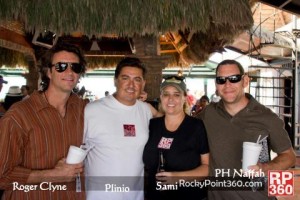 seek advertising, which would mark the beginning of a revenue base to continue growing their enterprise and broadening their realm of services. So high were their self-imposed goals that only recently did they determine that this point had been reached. If you are one of the loyal readers of RockyPoint360, you've probably noticed the addition of advertising tastefully placed within their pages. Based on the reception by local businesses, their timing is excellent. Be sure to contact them for more information on how you can position your business in front of the many thousands of loyal RockyPoint360 readers!
And, finally, as if to further prove the breadth and loyalty of their fan base, RockyPoint360 were recently invited by two different online radio stations, RadioCachora and BeachBarRadio,to provide short weekly spots on news, events and information  from around and about Puerto Peñasco.
Puerto Peñasco is destined to explode into exponential growth within the next few years and www.rockypoint360.com is positioned to match that growth, thus remaining a valuable source of information about what's happening in Rocky Point as well as continuing to be the catalyst for the development of cultural arts here.
This blog is powered by www.sonoranresorts.com, Jim Ringquist, Director of Sales and Marketing.
Related Posts