Antonio Mendivil was having a great time at the Sonoran Resorts Las Vegas Night for DIF Charity on Saturday night May 25th, laughing, chatting with the Americans sitting at the Black Jack table with him and happy he could contribute to such a worthy cause as DIF. He had even donated a couple of prizes for the evening on behalf of his company, Contra Plagas Exterminating.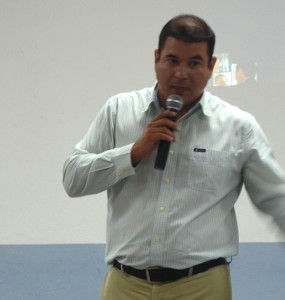 As the recently installed President of the Mexican Chamber of Commerce of Puerto Peñasco, Antonio couldn't help but notice that almost all the attendees of this great evening were Americans. He knew he had many Mexican friends who would be enjoying themselves as he was, and could only imagine how many other native residents would also enjoy such a night—if they only knew about it.
With both communities so active in organizing events, both for holidays and for social and environmental gatherings, Antonio could not stop thinking how great it could be if there was an opening of communication for these events, for example one calendar of events distributed to everyone.  The result of that thinking led to his motivation to first bring the two communities together, and what better way than through the services of CANACO, the Mexican Chamber of Commerce.  He knew that CANACO offers services that are important to the Expat business owners just as they are to the Mexican businesses and the time was ripe to publicize that fact.
With the help of local leaders like Kit Anderson of Peñasco Beauty and Fitness Centers getting the word out, on Tuesday June 11, 2013, Antonio Mendivil and his Board of Directors gave a Power Point presentation in English to 30 business owners from the Expat community with the intent to take the first step to open communication and let the businesses know that CANACO is capable of providing important services to not only save the businesses money in many areas (see below), but facilitate them with services and issues they may find problematical.
Antonio also expressed his hope that one result of associating with CANACO would be to bring the Mexican and Expat communities
closer together so they can make each other aware of sponsored events, holidays, festivals and other activities that don't necessarily make an intercultural splash with the public. Even though we work together like a small town because we all depend on the same market for survival: tourism; we are indeed an international community influenced by national and  international cultures for which, fortunately, we all share a  mutual  appreciation.
When it's time for those cultures to blossom into a festival, a celebration, an event of any notable caliber, it just makes good sense that everyone in our little slice of paradise by the sea know as much about the occasion as possible like, first and foremost, when it will take place; why it takes place, what will happen and what i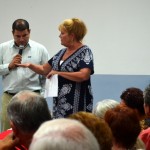 being celebrated. This can be done with a joint calendar of events and equal publicity for all events.  CANACO can be the catalyst to at least initiate this type of intercultural collaboration.
And this is just the start of the vision Antonio has for serving both the national and expat business communities of Puerto Peñasco. To spark the interest and further inquiries from the business owners, the Board published the following list of CANACO membership benefits along with a membership application in a blue folder neatly placed in front of every attendee at the meeting. The CANACO office is located on the short street that runs behind Shrimp Plaza in the Camara Nacional de Comercio building.
ESTABLISHED COMMERCE UNITED FOR A BETTER PEÑASCO 
JOIN CANACO AND TAKE ADVANTAGE OF THE BENEFITS OF BELONGING TO OUR ORGANIZATION.
* DISCOUNTS OF 15% AND 5% OOMAPAS, 20% OOMISLIM, 15% PROPERTY TAXES
* DISCOUNT ON YOUR TELMEX CALLS, $1.00 PESO/MINUTE
* DISCOUNTS OF 5%, 10%, 15% AND 20% AT LOCAL BUSINESSES
* DISCOUNTS AT HOSPITALS, LABS, OPTOMETRISTS AND DENTAL OFFICES
* JOBS LISTINGS WE HAVE QUALIFIED PERSONNEL FOR YOUR COMPANY
* SUPPORT AND DEFENSE REGARDING I.M.S.S., SECRETARY OF REVENUE (HACIENDA), ALCOHOL BUREAU, HEALTH DEPARTMENT AND MUNICIPAL OFFICES
* SUPPORT LETTER FOR U.S. VISA AND 6 MONTH PERMIT APPLICATIONS
* FILING APPLICATIONS AT SECRETARY OF REVENUE (HACIENDA) AND SECRETARY OF ECONOMY (SPECIFIC SECTOR IMPORT PERMITS, TAX REDUCTION, QUOTAS)
* PAPERWORK FOR PAYMENT OF LIQUOR LICENSE APPLICATIONS, RENEWALS AND FINES
* MEXICAN MERCHANT CARD APPLICATIONS (TO BUY TAX FREE IN CALIFORNIA)
* TRAINING COURSES FOR EMPLOYEES AND EMPLOYERS (WITH AND WITHOUT COST)
* INFORMATION SERVICES REGARDING INDEXES, OFFICIAL SALARY BULLETINS
* MEMBERSHIP DIRECTORY
* SUPPORT FOR ALL SORTS OF PROBLEMS (LABOR, REVENUE, I.M.S.S., ETC.)
* MEETING SPACE RENTALS FOR 100 AND 30 PEOPLE WITH CHAIRS, TABLES, PROJECTOR, TV AND VIDEO EQUIPMENT (SPECIAL PRICES FOR MEMBERS)
* MEMBERSHIP CARD WITH PHOTO FOR YOUR IDENTIFICATION AND TO OBTAIN DISCOUNTS AT LOCAL MERCHANTS (WE TAKE YOUR PHOTO)
* COMPLETING VISA APPLICATION FORMS FOR THE MEMBER AND HIS FAMILY, AT HALF PRICE
* SPECIAL PRICING AT CITY HALL FOR LIGHTED BUSINESS SIGNS
          FOR YOUR EMPLOYEES:
I.M.S.S. APPOINTMENTS FOR YOUR EMPLOYEES SO THEY DO NOT LOOSE THEIR WORK DAY.
I.M.S.S. APPOINTMENTS FOR THE CHILDREN OF WORKING MOTHERS.
TRAINING, MOTIVATIONAL, CUSTOMER SERVICE COURSES
OBTAINING THEIR C.U.R.P.,
INFONAVIT KIOSK TO CHECK THEIR POINTS AND CREDIT STATUS.
FOR BUSINESS OWNERS
* SECRETARY OF REVENUE (HACIENDA) MODULE FOR PAYMENTS OF LIQUOR LICENSE, LICENSE PLATES, 2% TAX, REPECO TAX, ETC.
* LETTERS OF SUPPORT FOR VISA AND 6 MONTH PERMIT APPLICATIONS AS WELL AS ANY OTHER APPLICATIONS REQUIRED.
COST IS ANNUAL
STOP BY OUR OFFICE OR CALL OR E-MAIL US AND WE CAN VISIT YOU
           6383834468                                                                                                  canaco_pp@prodigy.net.mx
This blog is powered by www.sonoranresorts.mx, Jim Ringquist, Director of Sales and Marketing
Related Posts