Everyone who knows Bob Livingston knows him as that risk taking dirt track owner and racer who retired to Cholla Bay a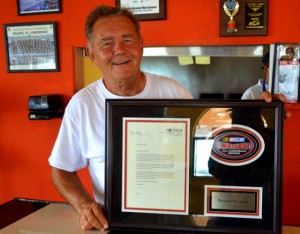 little over two years ago and shortly afterward talked Gus Brown into letting him plow a dirt track in that huge oval "hole" in the desert behind Reef RV Park. Yep, that Bob Livingston. He brought quite a few racers down for various types of dirt track racing, the kinds he had run on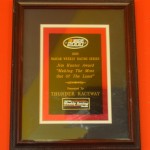 Thunder Raceway in Show Low, Arizona, which he built and owned for 17 years before retiring to our little slice of paradise by the sea.
Bob, however, is one of those guys, like many here in Rocky Point, who could and should have a book written about his life. In fact, he already has the title: "The Life of Bobby Joe Trouble". There just wasn't enough action at his track down here, aptly named Thunder on the Beach Raceway, especially the type that could rustle up enough adrenaline to thread the veins of a guy who's raced about every kind of vehicle and vessel that would hold enough horsepower to scale a six foot wall with one wrong move or take a 200 mph nitro-injected skip around a lake surface, or go so fast so quick it requires a parachute to stop.
In May of 2012 Bob came up with another way to stay close enough to touch Trouble. He  gave his half of the raceway to his partner, Darron Dodd, who bought a few modified racers and conducts a driving school for folks who would like drive them around the dirt track for fun, and who hasn't wanted to do that?
Bob had wanted to open a restaurant and bar in Rocky Point since he discovered the destination in 1979. Now was his
opportunity. He took over an ideal location in the Malecon. It's the very first restaurant you see as you come down the hill into the Malecon—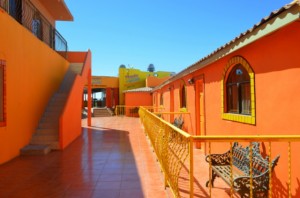 bright yellow, orange, red and blue, so traditional Mexican it'll make you hungry for a taco just looking at it. Part of the deal included eight rooms that he refurbished into cute and clean boutique hotel rooms that line the entryway back to the palapa bar area that literally overlooks the sea.  When we say "literally", what we mean is on a windy day at high tide, customers are treated to a unique phenomenon of natural water fountains shooting up through rectangular water spouts built into the palapa
covered patio. These are worth the visit, and there's a lot more there too.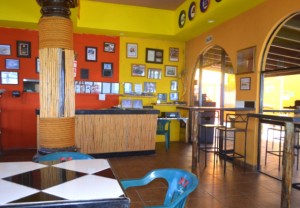 You can take the racer away from the racetrack but you can't take the racetrack from the racer, so the iconic "Checkered Flag" is symbolized by black and white checkered tile tables and counters along with dozens of photos of racing cars and boats signed by drivers dating back to the seventies and several plaques with various NASCAR Achievement Awards. NFL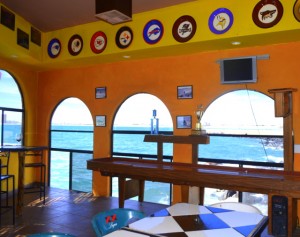 commemorative plates for every pro team including his beloved San Francisco 49ers line the upper border of the inside area where the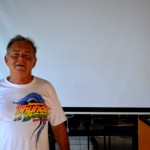 shuffle board is kept cool and slidey. Those photos by the way are inside the air conditioned part of the sprawling venue. Bob talks about the place like it's the den in his home as he pulls down the 8 foot screen on the patio he's going to show televised sports events of all kinds, and says he'll have another 6 footer inside as well. Those are in addition to the other high mounted flat screens he already has around the place.
If you know Bob, you know how personable he is, but one thing that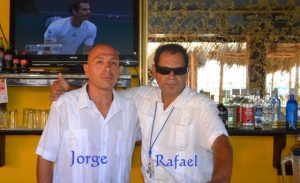 became obvious during our visit was how he is regarded by his loyal staff.  They love the guy and probably wouldn't leave him if he fired them! And he won't because every one of them has a personality similar to his—you feel like you've known them from before.
As if the restaurant and hotel operation weren't enough to keep Bob busy until his wife of 17 years, Janet, reaches retirement eligibility in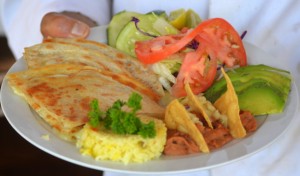 September, he and another partner, Andy Rivera, bought 2/3 interest in a cattle farm outside Rocky Point, the profits from which he plans to use to fulfill his long time dream to supply coats and boots for every kid in Puerto Peñasco because, "No child should be without a coat or boots in the winter time."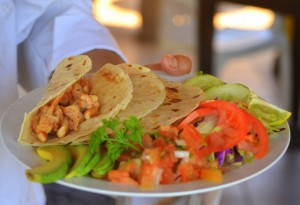 Rounding out his current business activities is a gated community in Cholla Bay Bob and partner Andy Rivera have designed and funded together with some partners out of Phoenix. That's all he would let us in on about this project until a few more loose ends are tied up.  Using some old interrogation techniques we were able to learn that the project is located in "Borracho Flats" at the entrance to Cholla Bay and will consist of mid-market single family homes.
A lot of folks have led interesting, even exciting lives and one thing is clear when you talk to Bob Livingston for any length of time: there is definitely a book waiting to escape the memory files in Bob's head!
This blog is powered by www.sonoranresorts.mx, Jim Ringquist, Director of Sales and Marketing.
Related Posts