They are the first organized cycling club in Rocky Point (now there are at least four other local clubs) and Los Pelícanos are holding their 6th consecutive annual bicycle race and their first annual Fun Ride on Sunday October 19, 2014.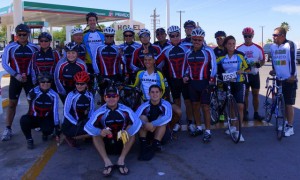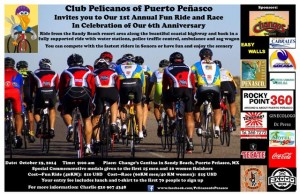 The club has been holding this popular competition run for the last five years, and this year they are also accommodating the many cyclists who would like to ride the club's very scenic route just to see all the great sights along the way. So, if you've ever wanted to ride your bike along a beautiful area in the safest traffic conditions possible, this is your  chance to get out there and enjoy the
pleasures of cycling with hundreds of other friendly enthusiasts. Even if you're not equipped to bring your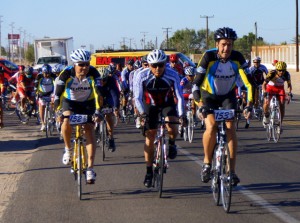 own bicycle, just let event organizer (and club vice president) Charlie Muratore know and he'll arrange for you to rent one for the ride. (Contact details below)
This year is a special celebration of the club's 6th anniversary and will include the awardingof special commemorative medals to the top 15 places in the Men's race category and top 10 places in the women's category. Entry fees for the Racers is $15. A special entry fee of only $10 is set for the Fun Ride entrants. The Men's race course covers 60 Kilometres and the Women will race for
40 Kilometres. The Run Ride will cover 40 KM as well.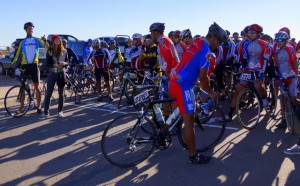 As these photos by our resident photographer Tony Ballesteros illustrate, this is a colorful and friendly group of well-conditioned bicyclists who come from all around Sonora, Baja, Arizona and California every year to challenge their Body Mass Index along one of the most scenic race routes of the year. It will take you up the new coastal highway along El Pinacate Biosphere Reserve, recently named a UNESCO World Natural Heritage Site, with views of the legendary Sea of Cortez, described by famed Jacques Cousteau as "The Aquarium of the World", and this year you will ride directly under the new giant turbo-prop wind generator completed just this summer!
The route is populated with water stations. There will be an ambulance available for added safety and the bikers will be insured the right of way throughout the race by the local and federal police who will control traffic as they escort the riders through the beauty that radiates in and around Puerto Peñasco.
The race and fun ride will take off at 9:00 AM from the brand new thatched roof Chango's Cantina located directly outside the gates of the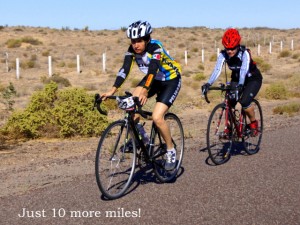 Sonoran Spa and Sonoran Sea beachfront condominium resorts. The ride will end at Chango's as well.
All registrants—racers and fun riders alike—will enjoy a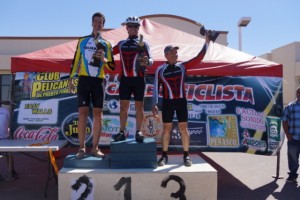 free lunch after the race at Chango's, and the first 70 who sign up will get a commemorative t-shirt.  Awards will take place during lunch along with DJ music to make a party atmosphere. If you are an aficionado of cycling, but don't want to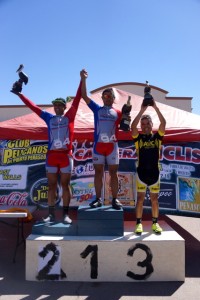 join the race or fun ride, you may want tobe a part of the colorful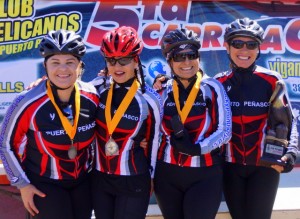 celebration afterward. All the cyclists should be back at Chango's by noon.
The major sponsors who make this great day possible include Easy Walls, Tequila Peñasco, Chango's Cantina, Tecate Beer, Coca Cola, Erick Burgers, Exodo Bikes and others.
For more information and to arrange for a bike rental, contact Charlie Muratore as follows: U.S. Telephone: 520-907-4348; Mexican Cell: 638-380-5028. Charlie's email address is Charlie@delbravotequila.com . You can also get more information from the club's facebook page at www.facebook.com/PelicanosdePenasco.
Go ahead, grab your bike and take advantage of the beautiful October weather in our little slice of paradise by the sea!
This blog is powered by www.sonoranresorts.mx, Jim Ringquist, Director of Sales and Marketing.
Related Posts