Mark Olszewski and Frank Bercovich have been working for years with residents in Rocky Point who have special needs of all kinds. They founded the wheelchair basketball team, The Rolling Rockies; they organized a Paralympics team made up of  teen agers who take advantage of their abilities in the midst of their disabilities.
Frank, a Polio victim himself, literally goes door to door locating families in need of wheelchairs, walkers, crutches and other equipment to make their lives a little easier.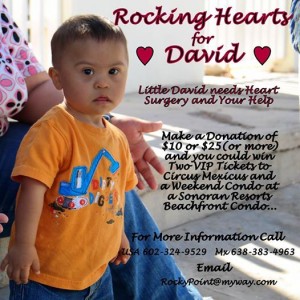 It was only recently, however, that these two friends became aware of the sad circumstances of  little David, an 18 month old child with Down's Syndrome as well as a serious heart condition that requires constant medication and an upcoming surgery that can only take place in Guadalajara. This situation became even more dire when his hard working parents sold the last of their inventory in the little neighborhood grocery store they own, which is actually the front of their small home in the San Rafael barrio. This was their only means of keeping little David in medicine. Now, they have no more items to sell off.
"We have these tirelessly determined parents who have exhausted every means for taking care of their little son", informs Mark. Their insurance, which covered most of the medical trips, was on the verge of expiring—that is until Mark and Frank spent some time with this small child who has already broken the "Cuteness" meter and, as Mark puts it, "Pulled every string in my heart, for sure."
Through his strong Facebook following, Mark was able to raise enough money to renew the insurance for David, an incredible relief for his parents. The issue of paying for medications was still looming so Mark called on Dr. George and Susie Stavros to meet David and his parents. This couple have been conducting free medical clinics for many years right here in Rocky Point and, sure enough, they opted in to supply David with the proper medication and are assisting in other areas as well.
This frees up Mark's ongoing fund raising efforts to provide transportation to the various hospitals and to assist them in restocking their little store so they can continue being self sufficient. Mark says, "I'm willing to do whatever it takes to help this family because they are not looking for a hand out; they're just looking for a helping hand."
When Mark sets his goals in this manner, his friends from all over several countries are ready to jump in, too.  For a $10 dollar donation Mark will offer you a chance to win two VIP passes to the Roger Clyne 2015 Circus Mexicus Music Festival, a donation from friends and frequent visitors, Scott and Angela Scriver. The prize also includes a two night stay at one of the luxury Sonoran beachfront resort condominiums, donated without hesitation by Jim Ringquist, Director of Sales and Marketing. For a donation of just $10 dollars you will receive one entry into the drawing for this awesome prize worth over $400 dollars. If you donate $25 dollars, Mark will give you three entries into the drawing. As with all fundraising  efforts by Mark and Barb Olszewski, 100% of money collected goes directly to the project. Mark and Frank affectionately refer to this effort as "Rocking Hearts for David!"
You can call or email him for more details, or look up his Facebook page. Here's the contact information: US Phone number (Vonage) is 602-324-9529; From Mexico: 638-383-4963; Email: rockypoint@myway.com. Facebook is www.facebook.com/twopesos.  Mark and Barb Olszewski are a team. If you don't know them, you're in for a real treat!
This blog is powered by www.sonoranresorts.mx, Jim Ringquist, Director of Sales and Marketing.
Related Posts
This year marked the 11th annual January Jam that began as an…

Since the very first Sonoran Resorts Las Vegas Night for Charity in…

Each and every year, as we mingle through the…