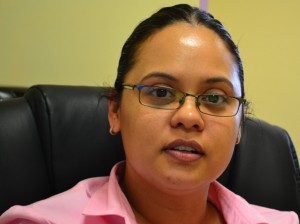 For five years Laura Valencia, a second generation Puerto Peñasco native, has been the pulse of organization for the Sonoran Sales Group, tending to everything from listing and closing documents to paying bills for owners. She even takes care of the complex applications for FM2 and FM3 documentation for the public as well as owners and residents of the four Sonoran Beach Front Resort Condominiums consisting of the Sonoran Spa, Sonoran Sea, Sonoran Sun, and the newest property, the Sonoran Sky which now houses the Sales Administration and Management office, recently relocated from the Sonoran Sea.
Laura joined the Sonoran family with four prior years experience in condominium rental management with Sea Side Reservations and seven years of accounting experience before that.  She studied accounting for three years after high school and started her career with an accounting firm afterward.
Laura is fluent in English and is thankful for her parents' foresight in allowing her to take private lessons from the age of seven.  By the time she enrolled in English as a Second Language classes at Mesa Community College in Arizona, she spoke English so well that she qualified for the next to last course they taught there.  She stayed for one semester and finished that course before returning to Puerto Peñasco to the accounting firm. When speaking with her, you would think she had lived in the U.S. for much longer than the few months she has.  Her pleasant sense of humor will capture you immediately.
Laura's interest in the English language is apparent as she describes how much fun she's having helping her nine year old daughter with homework in English that covers all these new words in math and science that the kids are learning today.
Laura is a valuable asset to the entire sales effort of the Sonoran Sales Group and you will find her always available and willing to assist you with any inquiries or needs you may have. You can reach Laura from the U.S. at (602) 476-7511, or email her at valencia20@gmail.com .
This blog is brought to you by the Sonoran Resorts Sales Group, Jim Ringquist, Director of Sales and Marketing.
Related Posts