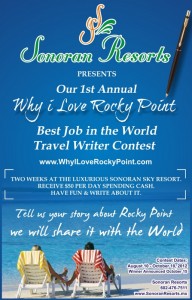 We've received so many positive responses to our announcements about the Sonoran Resorts "Why I Love Rocky Point" Best Job in the World Travel Writing Contest that we know this is going to be an exciting adventure for everyone involved!
And why not? This is your opportunity to test your travel writing skills against those of other writers with varying degrees of experience, desire and skills and who know and love this destination paradise as much as you do. It will give us the opportunity to share with the world what you love most about Rocky Point. The Sonoran Resorts thank you for wanting to share your passion for our beloved Puerto Peñasco!
As promised in last week's blog, here's some additional information that should tide you over and keep you writing until next week when the detailed rules, terms and conditions are finalized and the contest officially opens, which, by the way is Friday August 10, 2012 (at 12:01 A.M. Pacific Time specifically).
Please don't get stressed over the starting time or date of the contest however, because you'll have plenty of time to get stressed over the deadline for submitting stories which is Wednesday, October 10, 2012 at Midnight.  We'll announce the First Place, Second Place and Editor's Choice winners on Monday October 15.  They'll be notified by email and after verification will be announced on this blog, Facebook, Twitter, and Google.
Following are some of the rules that we know are of most interest to you, partly based on responses to our announcement, and conveyed in a more informal manner than they will appear in the official version.  These should answer all your questions that just can't wait (and shouldn't have to) until next week.
The contest is open to anyone and everyone regardless of experience. Of course we're assuming that if you've never been to Rocky Point you won't be able to write about it within the parameters required as covered below.  But, hey, if all your friends have been here but you, and you've heard so many great stories about it from them that you're chomping your bits to get down here, and think you can work up a story to convey that good time feeling, and it fits the criteria required, give it a shot!
Here are some important guidelines to keep in mind while planning and writing your story:
Your story must be original, written by you for this contest and based on your own experience or an experience you witnessed (the rare circumstance in the above paragraph notwithstanding).  If you've been published before, that's O.K. but we want the story you submit to be original. We want to avoid receiving "recycled" stories because, after all, we'll be sharing them with the world (giving you a byline, of course) in future articles on our blog. Hint: If the story you submit has been published before, there is a strong likelihood that among our panel of judges, all very knowledgeable on all things Rocky Point, someone will recognize the article.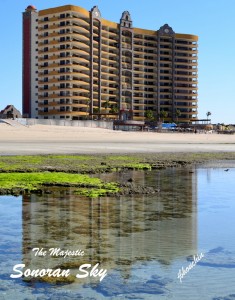 Yes, you may enter more than one story. At this time there is no limit to the number of stories you may enter, however, if that becomes unmanageable, we may exercise our right to limit the number at any time.  Every story submitted will undergo a preliminary stage of judging we refer to as a "First Cut" wherein the story will be read for basic compliance with the parameters we've set for qualification.
It's very important that you know we'll be judging each entry on accurate spelling, good grammar, and if the story depicts a positive experience in Rocky Point and has good continuity to its beginning, middle and end; all basic expectations for a good travel story. Hint: Spell Checker will take care of about 98% of spelling issues, but we're looking for 100% (and so should you). Therefore, it would be advisable to proof read your story just for spelling after you use Spell Check. Then proof read it at least two more times for grammar. If you have a question about the grammar, look it up. Those two issues will get you cut right off the bat.
All the experienced writers reading this are nodding their heads at the above right now!
Other reasons for not making the first cut will include not entering the correct and complete information asked for on the submission page you will be directed to on the day before this contest opens. On that page you'll be required to enter your name, email address, title of your story, a summary of your story in 25 words or less, and then to enter your entire story.  There are separate fields for each of those pieces of information.
Not keeping to the word limit of "1,000 words or less" for the story and "25 words or less" for the summary are reasons you will not make the first cut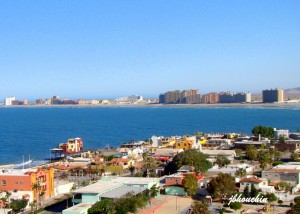 We must be strict on this out of courtesy to the judges who have volunteered their expertise to insure the best story wins.  To make it very clear, a story with 1,001 words, not counting the title, will be cut. Due to the number of entries, we will not be able to notify those who don't make the first cut nor give the reason why.
You'll know if you made the first cut within 72 hours when the summary you submitted with your story appears on the special web page that will be given out next week. If you don't see your summary after 72 hours, read your story again, count the words in both the summary and the story. You can rewrite it, edit it in any way to make it better and resubmit it if you wish. This will also be a good time to submit your second story if you have one. Again, you can submit more than one story and after making or not making the First Cut is a good time to do so.
Please read the above carefully and if you still have a question that affects your ability to get started planning and writing your travel story for our contest, leave your question in the  comments and we'll reply to it within 24 hours or sooner.
Thank you again for your enthusiasm and desire to share your love of Rocky Point with the world!
This blog is powered by www.sonoranresorts.mx , Jim Ringquist, Director of Sales and Marketing.
Related Posts
This year marked the 11th annual January Jam that began as an…

It has been less than two years since Mayor Kiko Munro inaugurated…

Each and every year, as we mingle through the…