Just a few steps onto Sandy Beach in front of the Sonoran Sea and Sonoran Spa condominium resorts, you'll find friendly Johnny Elías and his crew ready help you onto a Jet Ski or the famous banana boat, a bucking thrill ride you or your kids won't soon forget—and in the opinion of many—absolutely the most fun you can have anywhere for $5.00!
Of course, if you like to make your own thrills then rent a Jet Ski and cut your own wake into the sea for an hour of wave jumping and salt water spray.  At $50 U.S. dollars an hour, (or $30 for half an hour) including gas (and not having to buy one of those suckers!), the Jet Ski is a darn good deal and a great deal of fun as well.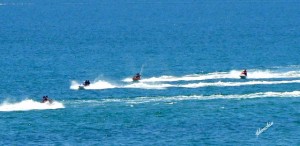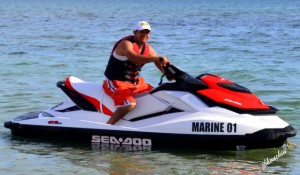 You may likely meet Johnny's equally friendly boss, Gama Tavarez, the young, polite, handsome owner and concessionaire extraordinaire who is always around the beach but keeps busy running between the four resorts his concessions cover.
Gama owns eight jet skis and two banana boats, all in immaculate condition, as safety is his primary concern. His priorities for safe guarding the tourist come from working with his father on fishing tours since he was in high school.  His father served tourists in Rocky Point for 40 years and raised Gama and his brothers to understand the importance of both service and safety as they relate to the visitor. It was only natural that Gama and his brothers continue in the tourism business today.
All in all, you're covered by the experience of Gama and his brothers in front of all the Sonoran Resorts, the Sun, Sea, Spa, and Sky, and all the resorts in between with a total of about 20 jet skis and about 6 banana boats.  That's a lot of beach and whole lot of fun waiting for you!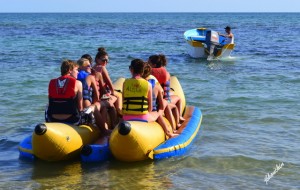 It's important to note that, as a concessionaire appointed by the port authority, you're assured that every effort is taken to insure your safety, and the safety of your kids, and that all the quality standards have been met or exceeded by the Tavarez brothers. Gama and Johnny both emphasized the importance of asking for permits from anyone renting jet skis or offering banana boat rides if they don't offer it voluntarily like the Tavarez family does.
At the young age of 32, Gama already has 17 years experience in the tourism business and it shows quickly after meeting him.  You get the feeling there is nothing he wouldn't do to make your visit to Rocky Point, not just your day at the beach, more enjoyable.
By the way, if you haven't tried it yet, the family also owns the popular taquería in town called Tacos Brisa con Amigo Gama.  It's located on the corner of Melchor Ocampo and Sinaloa across from the OXXO. It comes highly recommended by the locals here.
Be sure to plan some Jet Ski and banana boat time into your next trip to Sandy Beach!
This blog is brought to you by The Sonoran Resorts Sales Group, Jim Ringquist, Director of Sales
Related Posts
Activities for the Whole Family Beckon Enjoyment Just Outside Your Door What…